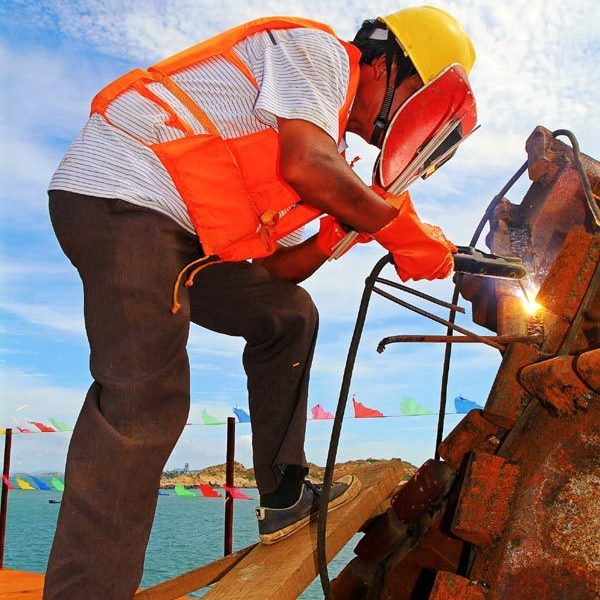 A worker at the construction site of the Fuzhou-Pingtan railway and highway bridge in Fujian province. The Financial and Economic Affairs Committee of the National People's Congress has called on authorities to control risks with local government financing platforms. [Photo/China Daily] 
Financial risks becoming complex, elusive, contagious, say lawmakers
Financial regulators must step up their oversight of the banking system to keep rising credit and liquidity risks under control, amid slower economic growth in China, top policymakers said on Tuesday.
"Financial risks are getting more complex, elusive and contagious, with risks in some areas becoming prominent," the Financial and Economic Affairs Committee of the National People's Congress, the top legislative body, said in a statement, after hearing a report from the State Council, the cabinet, on financial regulation.
Most of China's financial risks are centered in the banking system, as the industry's 159.5 trillion yuan ($25.7 trillion) of assets accounts for 90 percent of the country's entire financial industry, said the committee. But the committee said that the overall financial risks are still "controllable".
Bad loans of Chinese lenders have risen for 10 consecutive quarters, and stood at 1.28 trillion yuan at the end of April, according to data provided by the China Banking Regulatory Commission.
The property sector, which accounts for around 15 percent of Chinese economic output and directly affects about 40 other business sectors, is one of the key areas where credit risks lie, alongside local government financing platforms and industries like steel, shipbuilding and solar energy which face overcapacity issues, the committee said.
Last week, the National Bureau of Statistics said that average home prices in China fell for the first time in two years on a month-on-month basis in May.
"It's unclear where the property market is heading ... many developers are cash-strapped and credit risks have risen," said the committee.
By the end of March, loans to the property sector stood at 15.42 trillion yuan, up 18.8 percent year-on-year.