Dwindling revenue from land sales and slower fiscal revenue growth may hurt local governments' ability to repay outstanding debt, a leading Chinese credit ratings agency said on Tuesday.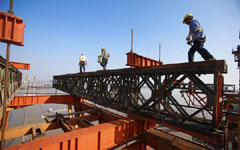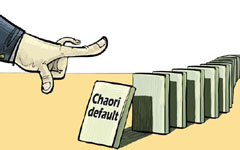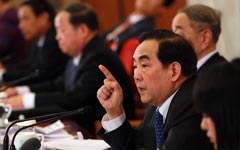 China Chengxin International Credit Rating Co Ltd, the Chinese unit of global ratings agency Moody's Investors Service, said in its report that the weakening property market poses the biggest threat for debt repayment, as land sales account for the bulk of the local governments' revenue.
Based on 2013 data, the ratings agency said property-related taxes and revenue from land sales accounted for 52 percent of the total revenue of local governments, after excluding the central government's transfer payment component. The ratio will be lower if Beijing's transfer payment is included, it said.
China's land transaction market has cooled following the recent downturn in the property market. In May, land sale revenues in 300 cities monitored by the China Index Academy, a Beijing-based real estate research institute, dropped 38 percent from a year ago.
What makes the going tough for local governments is their pre-determined plan to use the revenue from land sales for debt repayments. Different provinces have vowed different ratios of land sale revenue repayment. The average ratio was 37 percent in 2012 and it could be as high as 66 percent (in Zhejiang province).
Local governments are set to face huge debt repayment pressures, with over 4.24 trillion yuan ($678.8 billion) of outstanding debt, or 38.95 percent of the total debt, set to mature in 2014 and 2015.
An official survey last year indicated that direct debt and contingent liabilities of local governments stood at 17.9 trillion yuan by the end of June 2013. The repayment pressure was also amplified by the widening gap between local governments' revenue and expenditure growth.
During the first five months of this year, the fiscal revenue of local governments rose just 11.2 percent year-on-year, far lower than the level three years ago, when it expanded at a more than 30 percent rate.
Local governments are also under pressure to rev up their spending as a part of the effort to prop up economic growth. Local government expenditure soared 26.9 percent in May, a sharp acceleration from the 9.6 percent rise in the first four months, according to data released by the Ministry of Finance.