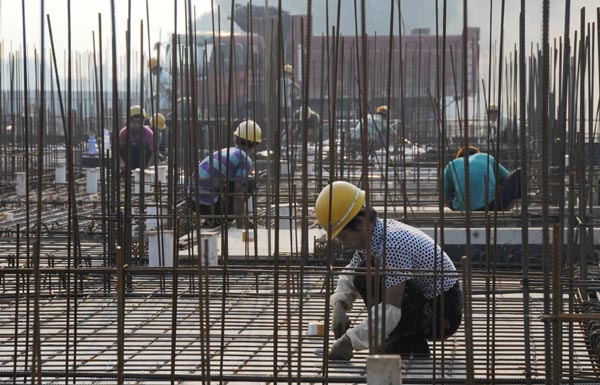 Workers working at a government-supported affordable housing project in Gu'an, Hebei province. An audit found that at the end of June last year, local government debt stood at 17.89 trillion yuan ($2.9 trillion). Wang Xiao / Xinhua
The risk associated with the debt of some inland local governments is significantly higher than for their coastal counterparts, the chairman of Beijing-based Dagong Global Credit Rating Co Ltd said on Tuesday.
"With a much smaller fiscal revenue base, the risks of some inland local governments' debts are significantly higher than for coastal provinces," Dagong Chairman Guan Jianzhong said.
Dagong is a major domestic ratings firm that has provided credit ratings to many of China's local government
financial
vehicles
.
Although Chinese officials have often said that the overall risk associated with the nation's local government debt is "controllable", audit results point to major risks in some specific areas.
A survey conducted by the National Audit Office found that, as of June 30, 2013, local government debt and contingent liabilities had surged to about 17.89 trillion yuan ($2.9 trillion), a 67 percent rise from the previous estimate of 10.7 trillion yuan at the end of 2010.
At the end of January, provincial-level governments across the country released independent audit results, which offered a clue to how government debts are distributed geographically.
An analysis of these reports indicates stark divergences among these governments. Comparing total debt to comprehensive fiscal revenue, Beijing topped the list at 99.86 percent.
Next came three provincial-level governments in the southwest - Chongqing, Guizhou and Yunnan - all with ratios in excess of 80 percent.
Coastal provinces, such as Jiangsu and Guangdong, had the most debt in absolute terms, but their debt-revenue ratios were moderate. For example, Jiangsu province owed 1.48 trillion yuan - the most of any provincial-level government - but that only accounted for 60.34 percent of its fiscal revenue.