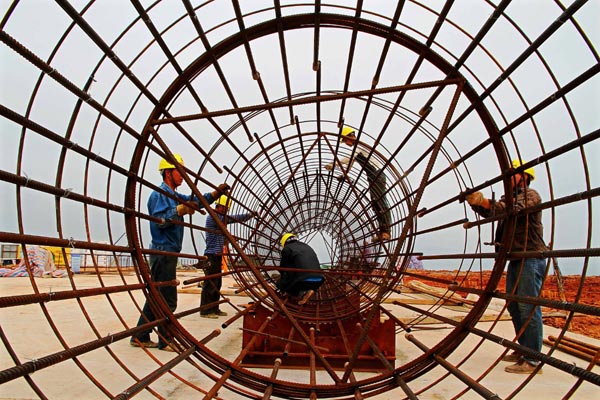 Workers assemble steel frames for a pier at a railway bridge construction site in Pingtan, Fujian province. China has become too dependent on credit and investment since the global financial crisis in 2008, the IMF said. [Photo/China Daily]
Containing financial risks and avoiding further stimulus measures should be the main priorities for policymakers in China, as they contemplate fresh strategies for sustained economic growth, the International Monetary Fund said on Thursday.
"We consider that vulnerabilities have risen to the point where containing them should be a priority. Therefore, additional stimulus should only be deployed if growth slows significantly below this year's target," David Lipton, first deputy managing director of IMF, told a news conference in Beijing.
The IMF retained its annual GDP growth forecast for China at 7.5 percent but lowered growth projections for next year from 7.3 percent to around 7 percent—a level that Lipton said is realistic if China carries out extensive financial reforms.
"We are not counseling stimulus at this point," Lipton said when asked if he thought the government should do more to shore up flagging economic growth.
"We don't think there are sufficient signs that would warrant that," he said. "But we are counseling vigilance because there are various sectors where the future is somewhat uncertain."
China has become too dependent on credit and investment, including in real estate, since the global financial crisis (in 2008), the IMF said in a statement after two weeks of talks with Chinese officials for its annual assessment of the nation's economy.
"Continuing reliance on credit-fueled growth means that risks are still rising, and although the government still has sufficient buffers to prevent a disorderly adjustment and sharp growth slowdown in the near term, more sustained efforts to reduce vulnerabilities are necessary," the statement said.
China's total non-financial debt rose to 210 percent of GDP in 2013 from 197 percent in 2012, Zhu Haibin, chief China economist at JPMorgan Chase & Co, said in a report this week. Corporate debt rose to 130 percent of GDP in 2013 from 92 percent in 2008.
Fiscal reforms, strengthening of local government finances, liberalization of deposit interest rates and the introduction of deposit insurance to remove distortions in the pricing of risk and borrowing costs are other measures that need immediate attention, the IMF said.