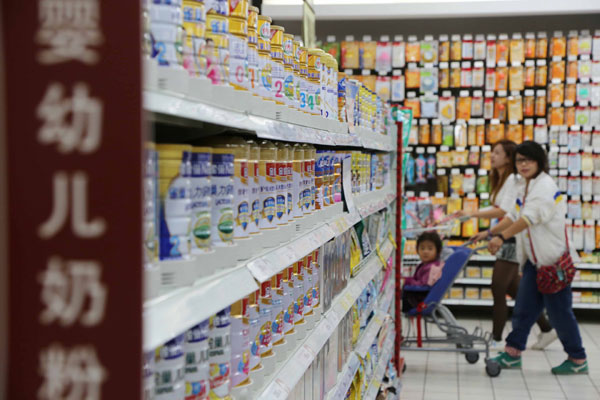 Dairy products at a supermarket in Xuchang, Henan province. The government's stricter permit requirements, which are expected to keep up to one-third of domestic infant formula producers from manufacturing, is driving up competition between local and foreign dairy brands. Geng Guoqing / For China Daily
Stricter regulations tighten the market as they bolster safety
The government's stricter permit requirements, which is expected to keep up to one-third of domestic infant formula producers from manufacturing, is driving up competition between local and foreign dairy brands.
As of May 31, the 127 manufacturers of infant formula have to apply and receive production permits or their production must cease.
Song Liang, a leading dairy industry expert, said about 45 formula milk producers have received the permits and it is estimated at least one third of the domestic factories will be phased out or face orders to stop production.
"Many smaller manufactures are done," Song said. To deal with the new standards, infant formula milk producers are consolidating to take on their foreign competitors.
Leng Youbin, chairman of Feihe Dairy Co Ltd, which has received six permits, vowed to invest nearly 5 billion yuan ($800 million) in expanding and updating factories to reach their goal of manufacturing 4,000 metric tons of fresh milk daily. They also plan to develop their Guanshan brand as the country's leading goat milk label by building three goat farming bases in Shaanxi province, Inner Mongolia autonomous region and Jilin province.
Leng said the new regulation, which aims to eradicate "fake" foreign infant milk powders, won't have a major impact on domestic brands but will escalate the competition between two sides.
Meanwhile, non-registered offshore production of dairy food may not be imported into China, banning all but 41 foreign makers of infant milk formula from selling in China.
Song Liang, said that since one-third of Chinese dairy producers are getting permits, the market share of imported infant milk formula has been boosted since all major foreign OEM (original equipment manufacturing) producers have succeeded in registering to sell in China.