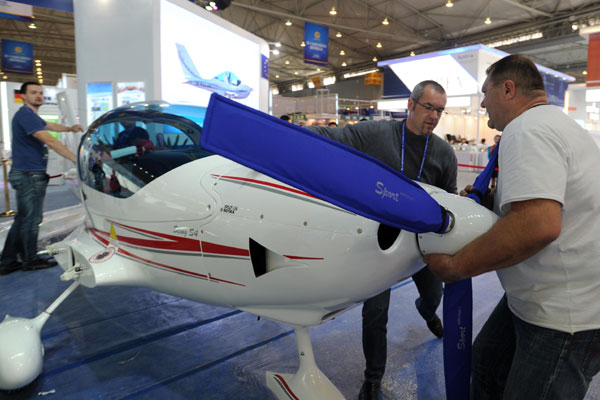 Czech technicians assemble a plane, being displayed at the 2013 Western China International Fair. The potential for commerce and investments between China and the Czech Republic is believed be enormous. Yu Ping / For China Daily
To Chinese, the Czech Republic conjures scenery and culture. Pavel Kysilka, chairman of the Czech Savings Bank, the central European country's largest bank said there's more.
"Companies in the Czech Republic would be very interesting targets for Chinese investors due to technology know-how, very successful production in industry and agriculture, and the capability to work as a part of the European Union," Kysilka said.
The Czech Savings Bank is a member of the Erste Group, founded in 1819 as the first Austrian savings bank. In 1997 Erste set a strategy to expand into central and Eastern Europe. Kysilka visited China in mid-May to promote trade and investment. He sought partners in China to link them with Czech producers and exporters.
It was ahead of a planned visit by Czech President Milos Zeman and part of a push to boost investment from China.
Kysilka said there is a strong appetite for business on both sides. His visit was to facilitate clients' trade, investment and cooperation.
"My bank is the largest in the Czech Republic. It's a natural gateway for investors to come into the Czech Republic, and central Europe," he said.
The potential for commerce and investments may be enormous. By the end of 2013 trade between China and the 16 countries of central and Eastern Europe was worth $50 billion. That's a one-tenth of China's trade with the European Union and roughly what it does with Italy.
China invests more in Sweden than it does in central and Eastern Europe.
The Czech economy is strongly positioned in central Europe, healthy and stable. That compares with the financial crisis across the eurozone that forced rescue money to be pumped into countries including Greece and Ireland.
Producers with high-quality products can tap Europe, Kysilka said.