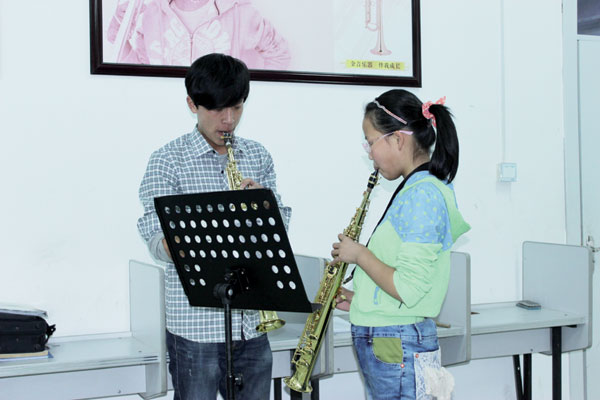 Two youngsters learn to play the clarinet in Zhouwo town, Hebei province. More than 500 children from primary and middle schools are studying music in the town. Zhang Yu / China Daily
A town in Hebei has a grand plan to turn itself into the Vienna of the East
A small town in Hebei province has grand cultural plans. Zhouwo wants to turn itself into China's Vienna, the Austrian city that has been at the heart of Western classical music for 400 years.
In the West, Vienna is known as the "City of Music", and Zhouwo's leaders hope that one day their town will earn a similar title.
Zhouwo wants to become a thriving workshop for the creation of original Chinese music.
The town in scenic Wuqiang county is home to about 1,000 residents but is already a major base for the manufacture of Western musical instruments.
"You don't often see farmers in China making foreign musical instruments and exporting them overseas," says Dong Yuge, manager of Lute Music & Culture Company in Wuqiang, a southeastern county in Hebei province.
Since 2011, the company has been cooperating with the Hebei Jinyin Musical Instruments Manufacture Group, the leading company in the county, to renovate houses in Zhouwo using musical themes. Professional designers from Beijing's 798 Art District have provided advisory services for the project.
There are plans to build museums to exhibit musical instruments and venues where musicians will perform. These will strengthen the musical character of the town, says Ge Xingli, a tour guide in Zhouwo.
All the six villages of the town have formed their own bands, in which at least 40 villagers perform with musical instruments they have made.
Wandering along the town's roads, tourists can hear their practice sessions or performances.
"Sometimes the sounds of saxophones and the posters all over the walls made me feel like I was walking down a street in Europe or the United States," says Wang Yu, a tourist who visited the town last year.