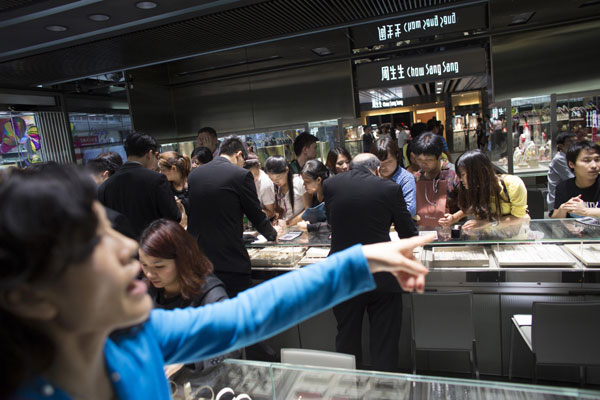 Customers browse jewelry on display at a Chow Sang Sang Holdings International Ltd jewelry store in the Mong Kok district of Hong Kong. Lam Yik-Fei / Bloomberg
Hong Kong got fewer mainland visitors during the May Day holiday this year, and industry players say the special administrative region's luster was dimmed by recent protests held to stem such visits.
"Needless to say, the dispute between locals and mainland tourists tolled a bell," said Joseph Tung Yao-chung, executive director of the Travel Industry Council of Hong Kong.
Hong Kong's Immigration Department reported that 388,070 mainland visitors arrived in the city from May 1 to May 3, a slight decline from the same period last year. In 2013, the holiday, which ran April 29 to May 1, brought 394,476 mainland tourists to Hong Kong.
On the first day of the three-day holiday this year, 142,505 mainland tourists arrived, indicating an 11.88 percent slide compared with 161,721 mainland visitors last year.
"This is the first time we have experienced such a decline during the 'golden week'. This clearly is an exclamation mark to us all," Tung said. "As some Hong Kong people are being very unfriendly, it's not hard to imagine why so many mainland tourists bypassed Hong Kong this time."
He pointed to a widely shared online video clip showing a fight between several Hong Kong locals and a mainland couple whose toddler urinated in public in Mong Kok, a crowded shopping district, on April 15.
The video drew over 1 million re-posts on Sina Weibo, the most active social network on the mainland. It also started a shouting match between netizens on both sides of the border. While voices on the mainland called for a boycott of the city, some Hong Kong residents then staged "anti-locust" protests.
"Of course it spoils the shopping mood. But I think it's unfair to blame the decline of mainland tourists totally on local radicals," said Wong Wai-cheung, chairman and chief executive of Luk Fook Holdings (International) Ltd, a large jewelry chain in Hong Kong.
Wong stressed that other factors, such as the downtrend of China's economy, the government austerity campaign and even anti-pornography actions taken in Dongguan, Guangdong province, played roles in decreasing sales.