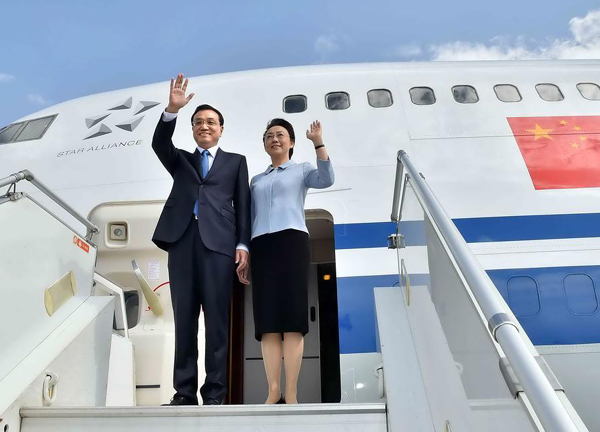 Premier Li Keqiang and his wife Cheng Hong arrive in Addis Ababa, Ethiopia, on Sunday. [Photo/Xinhua]
Visiting premier reaffirms Beijing's Africa commitment
Infrastructure in Ethiopia is expected to get a boost as China vowed on Sunday to help upgrade the nation's power grid and road system.
The pledge was part of a raft of deals signed by the two countries on Sunday afternoon, hours after Premier Li Keqiang arrived at the Ethiopian capital of Addis Ababa.
Under the deals, China will assist the Ethiopian government in renewing roads in its capital and offer loans to upgrade the local power grid and an intercity road construction project.
They also reached agreements in agriculture, industrialization and other sectors closely related to both countries' development.
China has already funded Ethiopia's first expressway project and is building a light-rail transit system in Addis Ababa. The $475 million project being executed by China Railway Engineering Corp is scheduled to carry passengers next year on a trial basis.
Ethiopia is the first leg of Li's eight-day visit to Africa, his first trip there since taking office in 2013. His entourage includes his wife, Cheng Hong.
While in Ethiopia, Li will visit the headquarters of the African Union in Addis Ababa and meet its chairwoman, Nkosazana Dlamini Zuma. Li is expected to deliver a speech on China's Africa policy and reaffirm Beijing's commitment to deepening the China-Africa strategic partnership.
"I am looking forward to an in-depth exchange of views on bilateral issues and issues of common concern with Ethiopian and AU leaders, and I am ready to promote further development of relations and cooperation between China and Ethiopia as well as the larger AU," Li said upon his arrival in Addis Ababa.