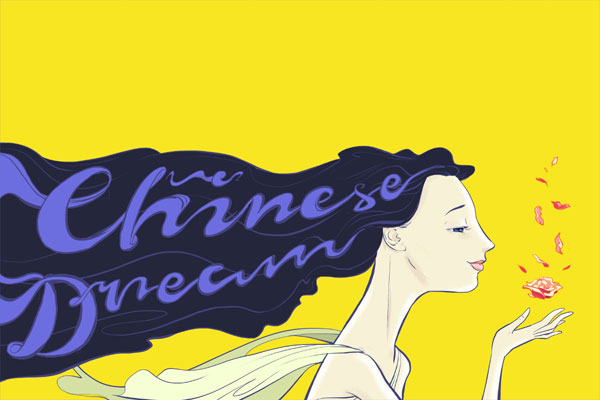 Zhang Chengliang / China Daily
Entrepreneurship will play a key role in fueling and sustaining the Chinese Dream
In her profession, Jian Lili works with dreams. "It's to get people to start talking about their feelings," she was quick to add, careful to note that there is nothing mysterious about it, and is just one of the many tools that she uses to work with her clients.
Jian is a psychotherapist from Beijing. But our meeting took place not in her Beijing office, but in San Mateo, a small city in the heart of Silicon Valley, halfway between San Francisco and Stanford University. And we spent most of our meeting discussing not my dreams, but hers.
Jian's dream is to build a platform to provide affordable mental healthcare services to all Chinese people. Yes, all 1.4 billion of them. Frustrated by the lack of quality information and services in the mental health industry, Jian is thinking of using technology to revolutionize the profession.
An ambitious undertaking, no doubt. But putting it in context, from where we were sitting, it didn't seem as daunting as it otherwise might be. Silicon Valley is no stranger to entrepreneurs who dare to dream big. Walk into any random cafe here, and one can't help notice the eager, often overly energized conversations all around. It might well be true that among them are the founders of the next Google. Great wealth and corporate empires appear overnight. Arguably the American Dream is most alive here.
People in the Valley are not the only ones who dream though. Jian's dream is deeply rooted in China, and she is on a trip to the Valley to study how startups are done here, so that she can better succeed in China.
Political observers and public intellectuals love to pit China and the US against each other as rivals. The recently introduced concept of the Chinese Dream, as the obvious Chinese counterpart to the American Dream, no doubt gave some of them another opportunity to point out the contrasts between the two.
Of course, both countries are geographically vast and socially complex, and the aspirations of their people are necessarily diverse. But there is still some common ground between the two places in the startup world. Both places are proud homes to vibrant entrepreneurial activities, and the leaders of both countries are promoting entrepreneurship as an engine for innovation, economic growth and job creation.
It shouldn't come as a surprise that two culturally and politically divergent societies could find a shared interest in startups. Even though in absolute numbers entrepreneurs make up a tiny segment of the workforce, their impact is disproportionately big.
Entire industries are created out of the imagination and hard work of entrepreneurs, and with it, new sources of GDP and employment. Small wonder that, from Hollywood's portrayal of Facebook in The Social Network, to the Chinese hit movie Chinese Partners, entrepreneurs are upheld as visionaries and heroes, stopping at nothing on their paths to success.