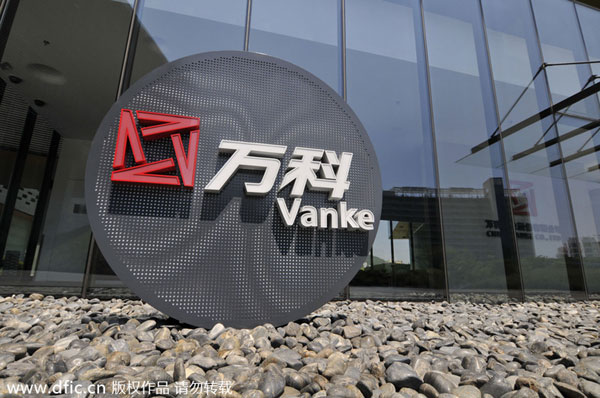 View of the headquarters of China Vanke Co Ltd in Shenzhen city, south Chinas Guangdong province. [File photo/dfic.cn]
BEIJING - China Vanke, the country's largest property developer by revenue, on Tuesday posted a decline in Q1 profits compared with a year earlier.
This is the company's first decline in quarterly profit since 2002.
Net profit went down 5.23 percent to 1.53 billion yuan ($244.46 million) in the first three months from last year's 1.61 billion yuan, said a report on the website of the Shenzhen Stock Exchange.
During the January-March period, Vanke's revenue plummeted 32.16 percent on an annual basis to 9.5 billion yuan, it added.
The Shenzhen-based company said it completed 984,000 square meters of buildings, only 6.6 percent of the real estate projects planned for 2014 in the first quarter.
However, Vanke expected itself to be able to finish the whole year's target and its earnings to grow steadily for the whole year.
The comany attributed the weak revenues and profits mainly to seasonable factors, that is, the first quarter is typically a slow quarter as most of the property projects are finished and most sales are made in the second half of the year, especially the fourth quarter.
The company did not specify why it saw its first quarterly net profit decline since 2002.
The news came amid growing signs of cooling in China's property market, after the past three or four excellent years.
In March, of a statistical pool of 70 major Chinese cities, 14 saw home prices either decline or stagnate on a monthly basis, the highest figure since early 2013. The average growth rate of the cities dipped to the lowest level for the past 15 months.
Under the pressure, some Chinese local governments have decided to ease grips on home purchase restrictions set years ago to curb speculation and home price rises.
Property price surge 'could soon be over'
Property prices stabilize in March
Cooling property sector in focus as economy slows
Property market shows signs of cooling down