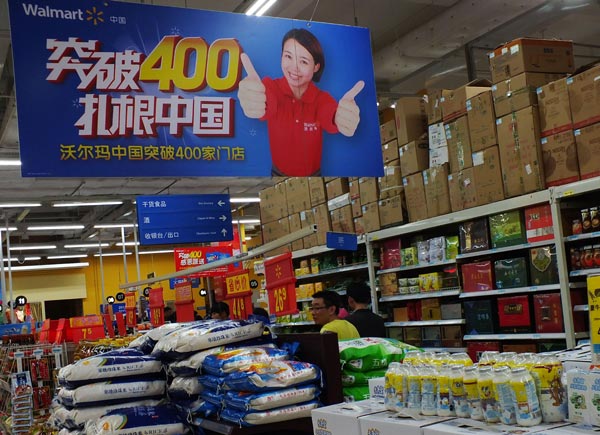 A Walmart stores is shown in Yichang, Hubei province, last October. Liu Yunfeng / For China Daily
Wal-Mart Stores Inc is closing five more stores in China this month as it seeks to reposition itself for a challenging market.
Earlier this month, the United States-based company, the world's largest retailer by revenue, closed an outlet in Chongqing municipality and one store each in Yancheng, Jiangsu, and Changde, Hunan.
By the end of this month, two stores in Ma'anshan, Anhui province, will also be closed.
Zhang Xuejing, media director for the company in China, said: "As part of this store closure plan, we have announced that we will close some nonperforming stores where needed.
"We sincerely regret any inconvenience caused by this. This is to enable us to continue to grow in China with more quality stores.
"These closures represent up to 9 percent of our total store portfolio, but only 2 to 3 percent of our total sales volume through next year."
Last year, the retailer said it will continue expanding in China and open up to 110 new facilities over the next three years.
But it also stressed that quality should take precedence over quantity.
The new facilities include hypermarkets and Sam's Club outlets, as well as distribution centers.
It also plans to build an "efficient supply chain" over the next three years.