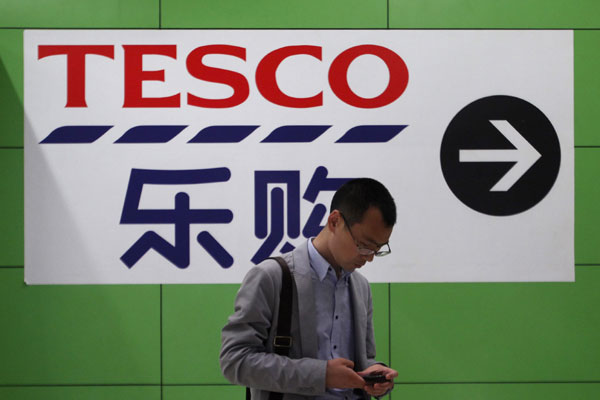 A Chinese consumer uses his mobile phone in a Tesco store in Qingdao city, in the eastern province of Shandong, in late 2013. Provided to China Daily 
UK's biggest supermarket chain will keep one foot in China, analysts say
Britain's biggest supermarket chain, Tesco Plc, is reportedly dropping its brand in China when it officially enters into a joint venture with China Resources Enterprise Ltd, further consolidating the latter as the largest retailer in the country in terms of market share.
Media reports have said the merger would combine Tesco's outlets and shopping centers in China with 2,986 China Resources Enterprises stores, under the Vanguard brand name, according to
Beijing
Business Today.
"It is not possible to say at this stage, and we will not speculate. It is important to remember that we don't trade as Tesco everywhere. In our second-largest market, South Korea, we trade as Homesplus. In Thailand, Lotus. In Turkey, Kipa," Tesco China said in a statement to China Daily on Monday.
The UK retailer started operations in China in 2004 but failed to win a dominating position. China Resources Enterprise will control 80 percent of the new chain, while Tesco will hold 20 percent, according to their agreement, signed last October. Tesco will add the 134 stores and 19 shopping malls it currently operates across mainland China into the joint venture.
The new business is expected to make up 8.6 percent of market share in China, topping the 8.3 percent of Sun Art Group, according to research by Kantar Worldpanel China, a global researcher of buying habits.
Hong Jie, chief executive officer of CRE Vanguard, quoted by Beijing Business Today, said that by 2015, the company's revenue should reach 150 billion yuan ($24.5 billion), a big leap from its revenue of 94.1 billion yuan in 2012. Mergers and acquisitions have contributed to the rapid growth of China Resources Enterprise's retail division.
Don't miss: