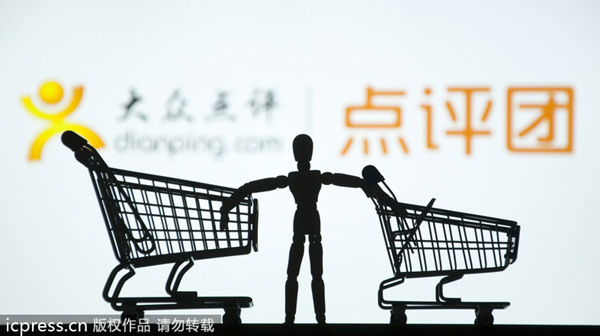 An innovation stock photo shows the logo of Dianping.com. [Photo / Image China]
Tencent Holdings Ltd, China's Internet giant, is expected to invest in Dianping, the country's leading local life information and trading platform, by acquiring 20 to 25 percent of its stakes, media reports said on Monday.
According to a report from China Business News, Tencent is to invest $400 million to $500 million in the Shanghai-based Dianping, which is the most recognized online third-party brand in ratings and reviews in China.
Both Tencent and Dianping refused to comment on the reports but sources in the investment department of Tencent confirmed to China Business News that an official statement is expected on Wednesday.
Tencent's teaming up with Dianping is seen as another major move to push into online-to-offline business. All of China's three Internet giants, Baidu Inc, Alibaba Group Holding Ltd and Tencent Holdings Ltd, have been expanding to offer more offline services through teaming up with smaller Internet companies.
Previous rumors said that Baidu Inc was in talks with Dianping, seeking a complete takeover. However, Zhang Tao, founder and CEO of Dianping, said in an interview in late 2013 that the company planned to go public within five years at an estimated valuation of more than $10 billion.
As of the fourth quarter of 2013, Dianping had more than 90 million monthly active users, more than 30 million reviews, and more than 8 million local businesses covering approximately 2,300 cities inside and outside China.
Don't miss: