How much is the 10-year-old Dianping worth?
Updated: 2013-11-01 14:46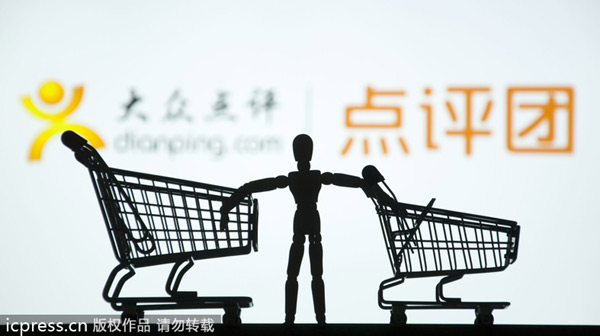 An innovation stock photo shows the logo of Dianping.com. [Photo / icpress.cn]
Recent rumors said that Baidu was in talks with Dianping for a potential acquisition that values Dianping at about $2 billion. Zhang Tao, founder and CEO of Dianping, denied it, saying the company planned to go public within five years at an estimated valuation of more than $10 billion.
Dianping turned 10 in April this year and now is the most recognized brand in ratings and reviews in China. As of the third quarter of 2013, the service had more than 75 million monthly active users, 28 million reviews and 6 million merchants in 2,300 cities, disclosed by the company. Monthly pageviews were over 2.5 billion, with 70% from mobile. Mobile app users were over 80 million. Headquartered in Shanghai, Dianping has offices in more than 40 Chinese cities.
Dianping thinks it is more than a Yelp, and prefers it to be referred to as China's Yelp+Groupon, but it's hard to say how much a market share in group-buying Dianping eventually will get for there are strong competitors like Meituan.
Yelp had 117 million unique visitors and 47.3 million cumulative reviews in Q3 2013. Yelp's mobile app was used by an average of 11.2 million unique mobile devices per month -- much fewer than Dianping's app usage. 62% of searches were from mobile -- similar to Dianping's mobile pageviews.
Looking at the user metrics alone, you may feel Dianping is no bigger than Yelp. Dianping hasn't disclosed its revenues. It is estimated it hasn't turned a profit since 2008. Yelp hasn't turned a profit, either, with $2.3 million in net loss in Q3 2013 that doesn't show any improvement from one year ago. Yelp's market cap is $4.4 billion as of this writing.