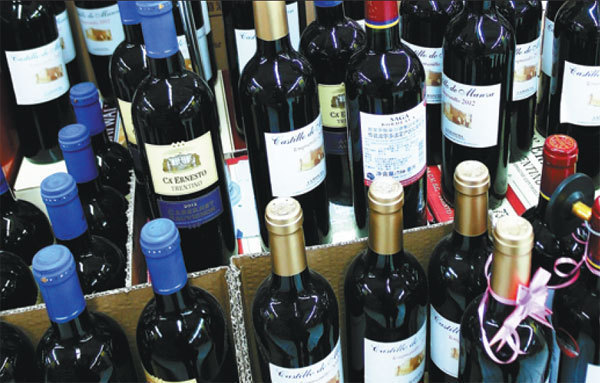 European wine on display at a supermarket in Yichang, Hubei province. EU wine exports to China hit 257 million liters in 2012. Provided to China Daily
China and the European Union ended an anti-dumping and anti-subsidy investigation into EU wine exports ahead of
Chinese President Xi Jinping's visit to Europe, the
Mini
stry of Commerce said on Friday.
A ministry statement said China and the EU reached agreement on the wine probe on Tuesday through negotiation and consultation.
China launched the investigation last year to determine if European product was sold below fair value in China. The case was widely believed to be a counter measure to EU moves to impose punitive duties on solar panels from China. The solar dispute, which took the two economies to the edge of a trade war, was resolved through a price undertaking with Chinese Premier Li Keqiang's mediation during his visit to Europe in May.
Xi will make his first trip to Europe since taking office from March 22 to April 1. He will visit EU headquarters, the Netherlands, France, Germany and Belgium.
Chinese Commerce Minister Gao Hucheng said in a statement he was happy to see both sides resolve the dispute through cooperation.
"Both China and the EU have been on the right track to resolving trade friction since the settlement of the solar panel dispute," Gao said. "The wine case was smoothly settled and the China-EU dispute on the telecommunication equipment is also moving toward the same direction."
The EU threatened in May to open an anti-dumping and anti-subsidy investigation concerning imports of mobile telecommunications networks and their essential parts from China.