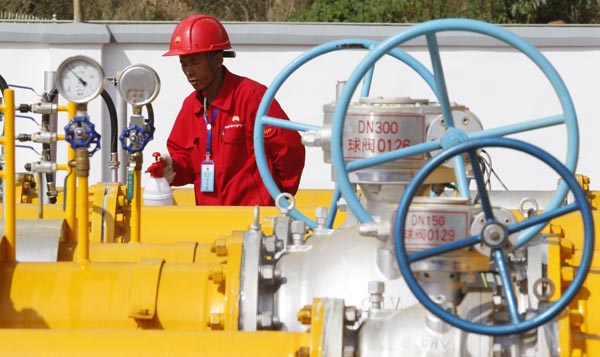 A worker monitors a PetroChina natural gas supply station in Yuxi, Yunnan province. On Thursday, the world's biggest company by market value posted 12.4 percent growth in full-year net profit, due to a rise in its overseas oil and gas production, as well as higher domestic prices. Provided to China Daily
Oil, natural gas output increases as company expands upstream
PetroChina Co Ltd said on Thursday that operating profit grew at a double-digit pace last year as its overseas oil and natural gas output increased and government-controlled domestic energy prices rose.
Operating profit jumped 12.4 percent to 129.6 billion yuan ($20.8 billion), while sales increased 2.9 percent to 2.3 trillion yuan, the Beijing-based energy producer and refiner said in a filing to the Shanghai Stock Exchange.
PetroChina said overseas production was a bright spot last year, generating 754 billion yuan in revenue-33.4 percent of the total.
Parent company China National Petroleum Corp has been focusing on upstream assets in overseas countries, a main driver of the higher oil and gas output.
In November, the country's largest oil producer bought a 25 percent stake in Iraq's West Qurna 1 oilfield in a deal with United States-based energy giant Exxon Mobil Corp.
That deal is helping PetroChina to expand its upstream businesses in the Middle East. Media reports have said the Chinese oil giant has been investing heavily in oil and gas projects in Australia, Peru and Brazil.
Net profit at its exploration and production division was 189.6 billion yuan, down 11.7 percent but still enough to offset losses at other units.