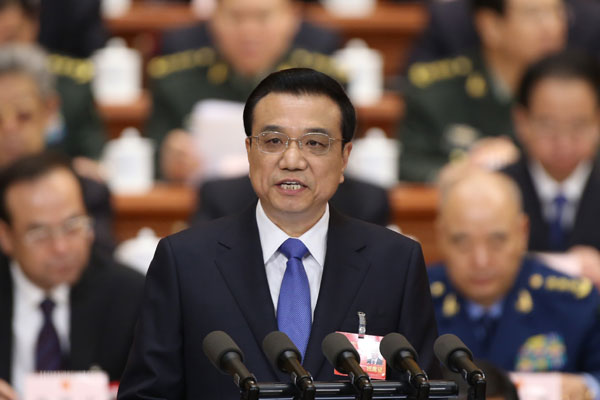 In a government work report delivered to the nation's top legislators in Beijing on Wednesday, Premier Li Keqiang said China plans to make many changes in the banking and finance sectors to deepen reform. Xu Jingxing / China Daily 
Deposit insurance, interest rate liberalization planned, Li says
China will undertake many changes in banking and finance, including granting lenders more control over loans and interest rates, in a drive to deepen reform, Premier Li Keqiang said in his work report to the annual parliamentary session on Wednesday.
The nation will also establish a deposit insurance system, a key move in carrying out financial reform, according to Li.
"We will establish a deposit insurance system and improve the risk reduction mechanism of financial institutions," said Li.
Deposit insurance has many important implications for China's financial markets, such as maintaining stability, said Pan Gongsheng, deputy head of the People's Bank of China.
Pan said the central bank is pursuing interest rate liberalization as planned, and the next target is to free up deposit rates. The timing of that move, Pan said, depends on the macroeconomic landscape and the results of other financial reforms.
It's not certain that deposit rate liberalization will happen this year, Pan said.
Analysts have said that introducing a deposit insurance system is a precondition for freeing up deposit rates, the last and most important phase of interest rate liberalization.
China has made significant progress toward liberalizing interest rates.
Two steps took place last year. In July, the PBOC removed the floor on loan rates and in December, it announced guidelines for a pilot program involving interbank trading of negotiable certificates of deposit.