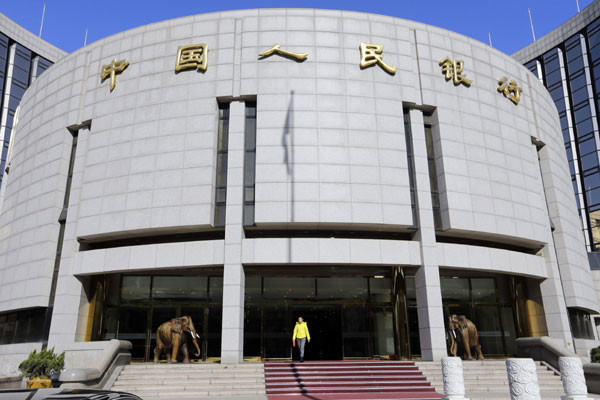 A woman leaves the headquarters of the People's Bank of China, China's central bank, in Beijing, on Nov 20, 2013. [Photo/Agencies]
BEIJING - China will continue to expand the cross-border use of the yuan this year, the central bank said on Wednesday.
People's Bank of China (PBOC) will gradually upgrade the yuan formation mechanism and expand the exchange rate's floating range in an orderly way, according to the PBOC.
The statement came after Shanghai free trade zone (FTZ) announced on Tuesday that five third-party payment firms have been approved to handle yuan-denominated cross-border payments in the zone.
The Shanghai office of the PBOC said that Allinpay, 99Bill, ChinaPay, Dongfang Electronics and Shengpay are now allowed to process cross-border payment in the renminbi in the FTZ.
The Bank of China cross-border renminbi index hit a record high of 228 in the fourth quarter of 2013, the bank said on Tuesday.
The yuan's cross-border settlement was 3.64 trillion yuan ($597 billion) in the first eleven months of 2013, 350 times that in 2009, the PBOC said at a work-planning meeting in January.
Don't miss:
Shanghai FTZ to allow cross-border yuan payment for trade
PBOC launches cross-border renminbi services