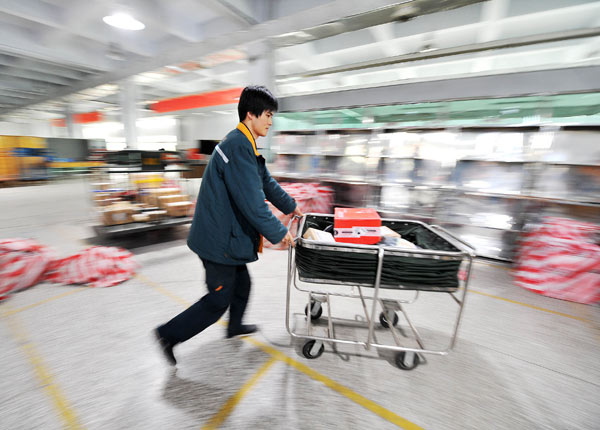 A worker pushes express parcels to delivery vehicles at the China Postal Express and Logistics Co Ltd branch in Yinchuan, the Ningxia Hui autonomous region. The State-owned company has been losing market share to private couriers amid fierce competition. PENG ZHAOZHI / XINHUA
China Postal Express and Logistics Co Ltd, the State-owned express courier company, has withdrawn its application to go public amid strong competition from domestic rivals in the 198 billion yuan ($32.7 billion) express delivery market.
The State-backed firm, known as EMS, cited "strategic adjustment" issues as the major reason behind the IPO pullout, according to a company statement.
The firm has decided to fine-tune its original parent-subsidiary structure to a more effective headquarters-branch management model, the statement said.
The move aims to boost its competitiveness in light of the dramatic changes in China's express delivery market, it added.
EMS plans to capitalize its businesses after the restructuring process is completed, it said.
Founded in 2010, EMS was the result of a merger by the China Post Group and provincial postal companies to tap into the country's fast-growing express delivery market. The company said on its website that it has the widest coverage nationwide and the richest product portfolio.
In August 2011, the company filed an application to be listed on the A-share market and won regulatory approval in May 2012, but its efforts to float shares were stopped by an IPO suspension that started at the end of 2012.
The withdrawal of the IPO plans is an unwelcome hit to the courier, which has slipped behind rivals including SF Express (Group) Co and YTO Express (Logistics) Co Ltd, said Xu Yong, an analyst with China Express and Logistics Consulting, a logistics consultancy.
"It's evident that EMS is gradually losing momentum. Clearly it's not the perfect timing for listing," Xu said.
EMS' market share is being increasingly squeezed by private courier companies, which together account for about two-thirds of China's express delivery market in terms of revenue, and more than three-fourths by number of parcels, according to data from the State Post Bureau released in June.
Xu said that EMS' planned restructuring process will help the company to achieve a "flatter organizational structure".
Currently, each subsidiary has separate control of finances and human resources, which Xu believes is hampering efficiency and profitability.
Xu noted that if the company doesn't adopt a more streamlined model, it will have trouble staying competitive after a listing.
The market value of China's express delivery market — the fastest-growing segment of the postal sector — is expected to reach 400 billion yuan by 2020, Ma Junsheng, the head of the State Post Bureau, said in October.
China's express delivery services have become a lucrative business fueled by the world's largest number of online shoppers. This year's Nov 11 shopping spree, an online shopping festival where vendors slashed prices, generated some 152 million parcels nationwide.
Competition is also intensifying as express delivery companies aim to optimize their services by chartering aircraft to serve high-volume areas, among other tactics.
Lu Ling, the owner of a Taobao shop that sells women's apparel, said she normally uses Yunda Logistics Co Ltd to send parcels due to the company's lower prices. If the clients require it, she will use SF, which she says is a premium option.
EMS is definitely her last resort. It takes up to three days to receive an inner-city parcel, which other couriers may send within hours, she said.