China's Sept non-manufacturing PMI rises to 55.4%
BEIJING -- China's non-manufacturing purchasing managers' index (PMI) rose to 55.4 percent in September from 53.9 percent for August, according to official data released on Thursday.
A PMI reading of more than 50 percent indicates expansion in non-manufacturing activity, while a reading below 50 percent indicates contraction.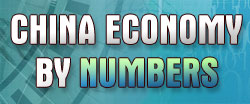 The index was released by the National Bureau of Statistics (NBS) and the China Federation of Logistics and Purchasing (CFLP).
The index reflected strong growth in consumption services represented by retail thanks to the holiday factor in September. It also showed the restructuring policies had boosted demand in the service sector, said Cai Jin, vice chairman of the CFLP.
The non-manufacturing PMI covers sectors including service, construction, software, aviation, railway transport and real estate.
The sub-index for new orders rose to 53.4 percent in September, up 2.5 percentage points from August. The sub-index for new exports orders climbed to 50.5 percent in September, up 0.9 percentage points from August.
But the sub-index for employment shrank to 51.3 percent last month, down 1.2 percentage points from August. That for business expectations fell to 60.1 percent in September, down 2.8 percentage points from August.
The data came after Tuesday's official release of China's monthly manufacturing PMI, which set a 17-month high to 51.1 percent in September from 51 percent in August.
China's economy climbed 7.7 percent in the first quarter of 2013, but slowed to 7.5 percent in the second quarter. The data for the third quarter is due on Oct. 18.
The government has set China's full-year economic growth target at 7.5 percent for this year after its economy expanded 7.7 percent in 2012, the slowest pace in 13 years.
Flash PMI data point to growth
Sevice PMI hits five-month high in Aug
China's non-manufacturing PMI drops
Aug non-manufacturing PMI falls to 53.9%