BEIJING -- China's purchasing managers' index (PMI) for the manufacturing sector rose slightly to 50.3 percent in July from 50.1 percent in June, according to official data released Thursday.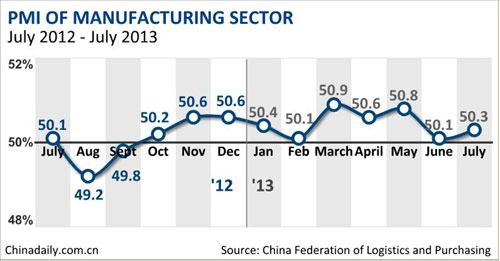 The manufacturing PMI has stayed above the boom-bust line of 50 percent for 10 months in a row, according to data from the China Federation of Logistics and Purchasing (CFLP).
Zhang Liqun, an analyst with the Development Research Center of the State Council, said the slight rise signaled a stabilizing trend in the economy.
China's economy has been stuck in a protracted slowdown, easing to 7.5-percent growth in the second quarter from 7.7 percent in the first three months, according to the National Bureau of Statistics (NBS).
Zhang said market expectations for stabilized economic growth have been strengthening and market demand is generally stable.
The data showed that the sub-index for new orders rose 0.2 percentage points to 50.6 percent, while that for new export orders was up by 1.3 percentage points from June to 49 percent last month.
Most sub-indices increased from a month earlier, CFLP said.
The sub-index for production moved up 0.4 percentage points from June to 52.4 percent, while that for raw material inventories was up 0.2 percentage points from June to 47.6 percent.
The sub-index for the purchasing prices of major raw materials surged 5.5 percentage points to 50.1 percent in July, while the employment sub-index edged up 0.4 percentage points to 49.1 percent.
The business outlook sub-index rose 2.3 percentage points to 56.4 percent, ending a dropping trend from the previous three months and signaling that more companies are positive about their business prospects for the next three months.
On Thursday, HSBC also released its final PMI reading for China's manufacturing sector, which dropped for a third straight month to an 11-month low of 47.7 in July from 48.2 in June.
HSBC's PMI reading, which focuses more on small and medium-sized manufacturers, showed that new orders dropped the most over the last 11 months, while employment shrank for a fourth month.
Qu Hongbin, chief economist at HSBC China, said the cooling manufacturing sector has continued to weigh on employment, as demand has been weak in both the domestic and external markets.
However, the government has unveiled measures to give tax breaks to medium-sized and small firms, as well as boost spending on infrastructure projects, including affordable housing, railway construction and energy-saving projects, Qu said.
Qu said the measures will boost market confidence and reduce downside risks for economic growth.
A statement released after a Tuesday meeting of the Political Bureau of the Communist Party of China (CPC) Central Committee said that major economic indicators were within reasonable ranges in the first half, adding that economic and social development have had a good start for the year.
Central authorities said they believe the country still enjoys the foundations of steady and healthy economic development, adding that the economy will maintain steady growth in the latter half of the year.