Flash PMI data point to growth
Updated: 2013-09-24 06:40
Activity in China's vast manufacturing sector hit a six-month high in September as new orders rebounded, a non-official survey showed on Monday, adding to signs of stabilization in the world's second-largest economy.
HSBC's preliminary Purchasing Managers' Index rose to 51.2 from August's final reading of 50.1, the second consecutive month above the watershed 50 level, which separates expansion from contraction.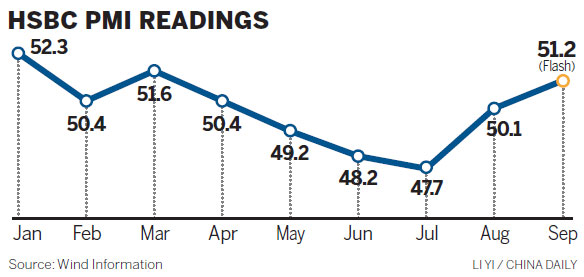 The data - the earliest reading of China's economic performance in September - boosted confidence that the government may be able to meet its growth target for the year.
The preliminary survey, conducted by HSBC Holdings Plc and market data vendor Markit Group Ltd, is usually published about a week before the release of the final figures, making it the earliest available indicator of the manufacturing sector's performance.
Major sub gauges, including new orders, output and new export orders, advanced at a faster pace than in the previous month, except for the employment reading, which stood below 50.
"The firmer footing was supported by simultaneous improvements of external and domestic demand conditions," said Qu Hongbin, HSBC's chief economist in China.
"We expect a more sustained recovery as further filtering-through of fine-tuning measures should lift domestic demand. This will create more favorable conditions to push forward reforms, which should in turn boost the mid- and long-term growth outlooks," he said.
Official PMI data, which focus on large and State-owned firms, have been generally rosier than HSBC's survey, which mainly looks at smaller and private companies.
The latest survey suggested that smaller firms are starting to follow the steps of their larger counterparts, as official data last month climbed to 51 from 50.3 in July.
The government has recently announced a series of measures to support the slowing economy, including scrapping taxes for small firms, offering more help to ailing exporters and boosting investment in urban infrastructure and railways.
The State Council, China's cabinet, said in July that it would simplify customs clearance procedures, cut administrative fees and provide zero tariffs for exporters in the service sector.
Gao Qiang, general manager of Shanghai SVS Tools Co Ltd, said the fine-tuning measures have in part helped to stabilize the exports of his company to India.
Orders for the electronic machine-maker have been steady in the last three months, with monthly shipments rising to two containers from just one container in the first four months of the year.