China's PMI rebounds in Aug
Updated: 2013-09-02 08:43
BEIJING -- China's manufacturing sector saw a strong recovery in August, offering further signs that the world's second-largest economy is moving out of the shadows of a protracted slowdown.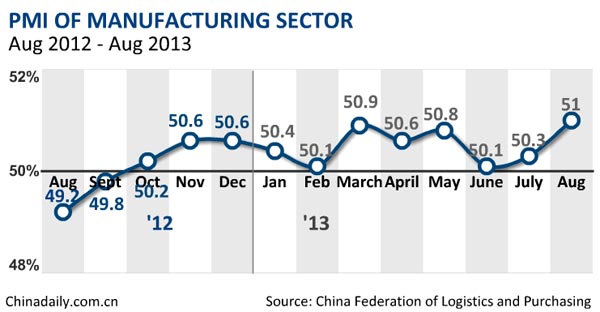 The Purchasing Managers' Index (PMI) for the manufacturing sector rose to 51.0 percent in August from 50.3 percent in July, marking the second monthly expansion in a row, and the highest reading this year, the China Federation of Logistics and Purchasing (CFLP) said on Sunday.
A reading below 50 indicates contraction, while anything above signals expansion.
The 70 basis point expansion also represents the biggest increase since January. In the months prior to August, the data had fluctuated.
Zhao Qinghe, a senior statistician with the National Bureau of Statistics (NBS), said the new data show that manufacturing activities have a stronger growth impetus and the economy is firming in a more evident way.
This scenario is also reflected in the PMI reading compiled by HSBC, which focuses more on small and medium-sized manufacturers. The general reading rebounded to 50.1 percent after dropping for three consecutive months.
China's economy has been stuck in a consistent slowdown, easing to 7.5percent growth in the second quarter from 7.7 percent in the first three months.
With the government's rebalancing efforts gradually taking effect, third quarter performance is expected to improve as predicted by the new data.
A breakdown of the August PMI shows growth over the previous month in all five sub-indices.
The sub-index for new orders jumped to a 16-month high of 52.4 percent, which is the most convincing evidence of a strong recovery, Zhao said.
Domestic demand warmed, with the gap between the sub-indices for production and new orders narrowing to 20 basis points, the smallest in seven months.
Also boosted by recovering demand, the sub-index for the purchasing prices of major raw materials surged to a six-month high of 53.2 percent. The sub-index for imports moved up by 160 basis points to 50 percent.
With improving economic performance by the United States and European Union, the sub-index for export orders edged up to 50.2 percent, the first time it stood above 50 percent since April.