Market strategist eyes China's rising taste for luxury
For Pablo Mauron, China is a land full of opportunities.
As the general manager of Digital Luxury Group's China office, the 33-year-old has witnessed a rapid rise in the consumption of luxury goods in the country.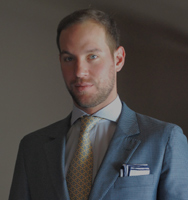 Pablo Mauron, general manager of Digital Luxury Group's China office.
 [Photo / Provided to China Daily]  
In his opinion, China's luxury market has just started to take off, but is already seen as an indispensable part of business strategy by most international luxury brands.
"China is a key part of our company strategy," he says. "I believe that in 10 years China will become not only the biggest luxury and fashion market worldwide, but also a key driver for the overall luxury industry globally."
Digital Luxury Group, one of the first European companies to specialize in digital marketing, is a research and marketing firm that focuses on luxury brands.
The company is headquartered in Geneva, Switzerland, and has offices in New York, Shanghai and Dubai. Its clients include TAG Heuer, Piaget and Marc Jacobs Fragrances.
Mauron says that in working with international brands and their local Chinese teams, one of the company's main objectives is to localize marketing campaigns.
"How can luxury brands combine their long-time heritage with the required innovation to succeed in the competitive Chinese market is the issue DLG deals with," he says.
Prior to relocating to China, Mauron worked for Digital Luxury Group in Geneva, where he was responsible for branding for some of the company's main clients, using search Internet engines and online media campaigns.
"I had the opportunity to work with a few different highly innovative companies in the fast growing online advertising market and started to work with luxury brands on the technical side at Digital Luxury Group," he said.
The first major luxury brand he handled at the company was TAG Heuer, part of Moet Hennessy Louis Vuitton, the world's largest multinational luxury goods conglomerate.
He says China's luxury market is still new but rapidly growing, with many luxury brands now well established, especially within first-tier cities. But times are becoming more challenging and exciting, he adds, with growing competition and increasingly sophisticated consumers.
"The market is getting more fragmented, especially in some segments like the fashion industry, and consumers are willing to distinguish themselves, which makes the market much more challenging than it was in the past," he says.
"However, a lot of opportunities can also emerge from this context where no positions can be taken for granted."
Changing tastes means a greater demand for luxury goods that are individual, he believes.
"China is probably the market where the mix and match trend is the most developed and you can really observe that a unique taste for luxury and fashion is growing here. Thus it's not only about ultra high-end from a pricing standpoint, but also about exclusivity and credibility," he says.
"It creates a unique playground for brands that have to care more than ever about their positioning and reputation."
Mauron also hopes China will begin to develop homegrown international luxury brands.
"Some of China's domestic brands are on their way to doing so. The question is how much time will it take," Mauron says.