Techs and the city: IT firms see challenges in China's urbanization
Smart traffic system from IBM helps manage urban congestion
Western technology companies are keenly carrying out research and development on smart-city solutions to address China's unique challenges arising from rapid urbanization.
The success of these IT solutions in China's cities is also helping them break into other emerging markets across the world.
One example is a smart traffic management system developed by IBM Corp in China, whereby buses change routes according to local traffic conditions.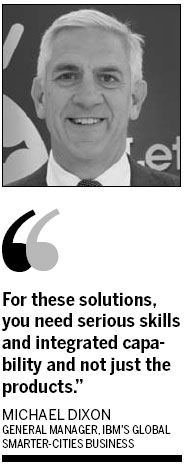 "Traffic congestion is a major problem in China," says Fu Peihong, an executive with IBM's China smarter-cities program. "We are currently trialing this solution in a few Chinese cities, and in the future we may be able to bring the same solutions to many rapidly urbanizing emerging countries that are dealing with the same traffic challenges."
Fu says another solution first developed in China was to introduce a comprehensive information platform for Zhoushan port in Zhejiang province.
Zhoushan went from handling 100 million tons of cargo in 2006 to 300 million tons in 2012, which put enormous strain on the port's loading and unloading operations.
IBM is now helping the port develop a system that shares information between the local government and private companies. For example, ships can quickly determine the best location to dock, and help to minimize congestion and save fuel.
"R&D is very important to IBM's smarter city work in China, and as a global organization we make sure the results of our R&D work in China are shared with our colleagues around the world," Fu says.
Schneider Electric SA is another major company developing smart-city solutions for China's urbanization challenges.
"A lot of our smart-city solutions now applied to emerging markets were originally developed in China," says Yin Zheng, senior vice-president of Schneider Electric in China. "These include solutions that improve the energy efficiency of buildings, the application of smart grids, and provide security for high-density urban areas."