Thinking small begins to yield results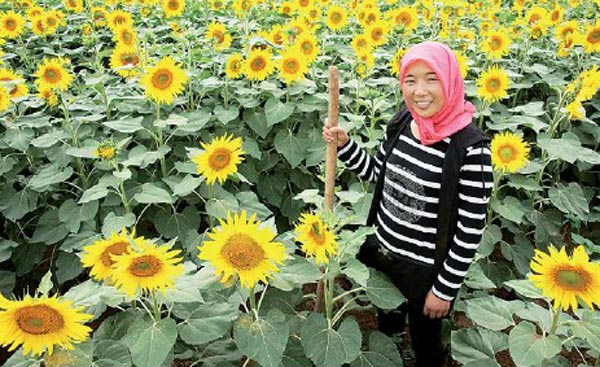 A woman who cultivates sunfl owers for a living in Ningxia Hui autonomous region has secured micro loans from CreditEase. [Photo / China Daily]
"I tried to start a business in the US, but as a foreigner I had to meet many requirements including getting a working visa. I could not afford to lock myself in the garage for many years to come up with a hit product as many American dreams describe."
Zhao says his decision to move back to China was based on his excellent networks in China, lower living costs, and inexpensive, high-quality talent. His company employs more than 30 people, including eight overseas returnees with impressive resumes. Though it is yet to break even, its revenue has grown steadily. Last year, company revenue reached 2 million yuan ($376,336).
Growing pains
Economists usually describe SMEs as flexible, using a metaphor that says "small boats easily turn direction". But very often the "small boats sink easily when storms hit".
"We are very flexible but extremely vulnerable,"says Ge Xuan, a media company manager and the owner of a small liquor trading company. Ge is a typical micro-entrepreneur who not only identifies investment opportunities but also tests the waters. When he found out about the high margins for baijiu (Chinese liquor) and imported red wines two years ago, he quickly started a liquor trading business and made his fortune.
However, this year Ge's liquor business is languishing. With the new government determined to cap luxury goods consumption by officials, especially of high-end spirits, his baijiu business has fallen 70 percent. The Moutai he sold used to have a price tag of 2,300 yuan a bottle earlier, but is now selling for 850 yuan.
While applauding the policy because it beats corruption, Ge says he has to struggle to make ends meet solely with revenue from red wine, which is still popular with the public.
With economic prospects still gloomy, Ge's media company has also felt the chill. The media company he worked in used to enjoy profit margins of 50 to 70 percent by helping automakers place advertisements in newspapers and magazines. This year, the profit margins have fallen to nearly 30 percent.
"Automakers used to have a big budget for advertising when the market was good. But this year they are extremely cautious and are choosing only niche media due to financial constraints,"Ge says.
High tax rates are another bugbear for most of the SMEs in China. The current value-added tax rate is 17 percent, making it impossible for many businesses to earn profits.
In places like Wenzhou, Zhejiang province, home to many shoemakers, the average profit margin has slumped to below 3 percent.
But the future is not all that bleak for SMEs in China. Gao Xudong from Tsinghua University says most SMEs are involved in consumer products, so can expect a silver lining as the government is encouraging domestic consumption.
"Exports and an investment-driven economy have proved to be unsustainable in the long run. So the government has turned to consumption for future development. This is definitely good news for SMEs,"Gao says.
However, many SMEs feel they are often pushed around by the bigger firms. Zhao says he often faces pressure from upstream and downstream companies in his line of business.
His company works mostly with publishing houses to translate novels or science books. "The publishers often tend to squeeze our profits, rather than treat us as equal business partners."
The SMEs also feel that academic institutions are not really supportive of their efforts to work on emerging technologies. Since many SMEs lack the talent or money to invest in research projects, they turn to institutes or universities for help. However, projects floated by the SMEs are usually specific, unlike those of state companies, so many institutes are reluctant to devote time or resources to such projects.
"It's hard to approach academic institutions,"says a gas-meter manufacturer based in Wenzhou on condition of anonymity. "They either raise tough requirements for patents, or charge us a lot of money. I really hope they can serve society more by joining hands with us."
According to a World Bank report last year, China's state-owned companies receive massive loans thanks to state owner.