Other ports eye FTZ model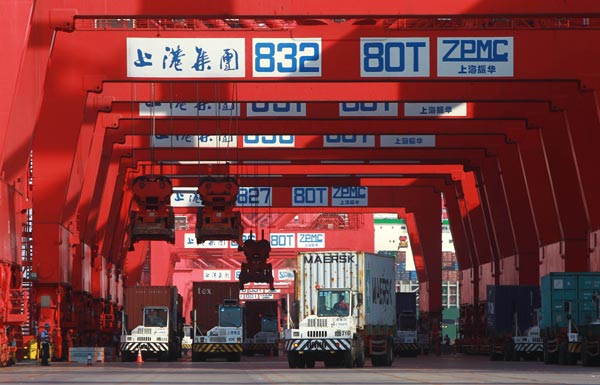 Container trucks in the Yangshan Port in Shanghai. The State Council on Wednesday approved Shanghai's free trade zone, which will cover 28 square kilometers and offer world-class transportation and communications facilities and a tax-free environment. [Photo / Provided to China Daily]
Experts and officials hope zone will be copied in Tianjin, Shenzhen
Approval for a free trade zone in Shanghai on Wednesday has both inspired confidence and added a sense of urgency in some other coastal cities, notably Tianjin and Shenzhen, which harbor similar ambitions and have equally expansive plans.
The State Council approved Shanghai's free trade zone, which will cover 28 square kilometers and offer world-class transportation and communications facilities and a tax-free environment.
Shenzhen, which had container throughput of 21.7 million 20-foot equivalent units in 2012, already has a free trade zone. But it's small, and its operations are limited by regulatory and other constrains.
To the north lies Tianjin, whose ports handled 12.3 million TEUs last year. The city also has plans to expand its logistics capacity to cater for the demand of traders in northern China.
Logistics experts said that they welcome competition, and they noted that the facilities in the three ports serve the needs of different regional markets, which are individually large enough to support more than one FTZ.
The central government hopes the Shanghai zone will be promoted and copied to advance reform and opening up.
Shanghai Mayor Yang Xiong said Thursday during the Taipei-Shanghai City Forum in Shanghai that the city will seize the chance of building up an FTZ.
Yang said Shanghai will take the deepening of reform and opening up as a driving force of economic restructuring. Shanghai should also play its role as a pioneer in reform, said Yang.
Logistics companies are happy to embrace the new zone. The spokesman for United Parcel Service of America Inc said it "welcomes any policy that will help to promote the development of free trade, improve trade facilitation and accelerate stock turnover."
Zhang Jianhua, a senior manager at the Shanghai branch of the Shenzhen-based logistics company SF Express, said it is too early to say what benefits the FTZ will bring to logistics companies as such.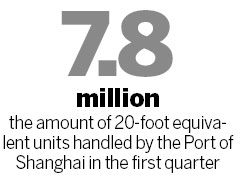 "We will wait for more detailed policies within the free trade zone before we make any further plans," he said.
Chu Xuejian, deputy director of the Shanghai Logistics Society, said approval of the zone is especially good news for the city, with the development of the existing Waigaoqiao Free Trade Zone and Shanghai itself reaching a bottleneck.
"It can be noted that the economic growth rate of Shanghai has been slowing down recently. The establishment of the free trade zone provides a perfect opportunity for Shanghai to seek new growth points.
"It is also in line with the municipal government's policy of 'retreating from the secondary industry and marching into the tertiary industry.' Modern service industries will be given a chance for growth and innovation," said Chu.