Official calls for balance in urbanization process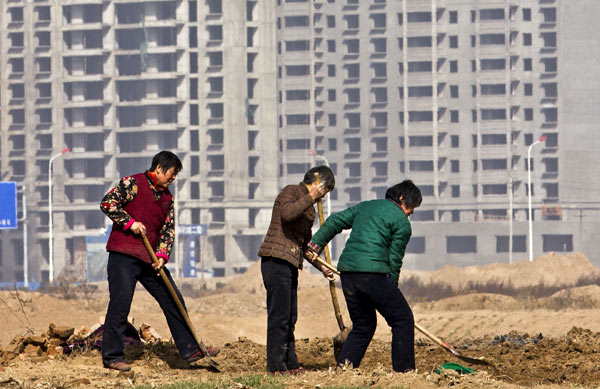 Villagers prepare to plant crops in Huaxian county, Henan province, in March, in front of apartments into which they are soon to move. [Photo / China Daily]
A senior official of China's economic planning body called for more reasonable planning and balance in the urbanization process to better protect the rights and interests of migrant workers and farmers.
Xu Shaoshi, minister of the National Development and Reform Commission, said in a report to the country's top legislators on Wednesday, addressing problems in the rapid urbanization of many areas.
As of the end of 2012, China's urbanization rate was 52.57 percent and more than 200 million migrant workers were living in cities, according to the report.
But migrant workers and their families did not enjoy many public services in those cities available to registered residents.
Xu said deepening reforms were needed to develop public services and to balance the development between small and medium-sized cities and large cities.
Under China's new leadership, urbanization will be the main driver of economic growth. A report from the World Bank forecast that large-scale urbanization and related development projects are likely to drive GDP growth to 8.4 percent this year.
However, the rapid speed of urbanization in many regions has pushed up local debt levels. In many areas, urbanization deepens the gap between cities and villages as local governments pay less attention to farmers' interests and the development of agriculture, according to the report.
Reform in the hukou (household registration) system, land system and ensuring equal public services to urban and rural residents are the top three priorities in addressing an expanding gap between cities and villages, said Xu Hongcai, a senior researcher with the China Center for International Economic Exchange.
Some local governments have been adopting positive measures in areas such as issuing residence permits and building affordable housing projects, but those efforts are far from enough, Xu said.
He suggested local authorities allow residents to be more involved in formulating local public policies, to show them respect and avoid social disturbances, which have been seen more regularly in recent years.
Zhang Liqun, an analyst with the Development Research Center of the State Council, said urbanization should pay more attention to the protection and renovation of existing town areas rather than just transforming more farmland into concrete ground.
"Urban development should attach more efficiency to land usage and optimization of cities' functions, so as to enhance the capacity of existing urban areas," he said.
He gave the example of Beijing, which has a population density equal to only a quarter of some metropolises in developed countries, but has many urban problems such as traffic jams.
"There is huge potential to explore in using the land more efficiently," Zhang said, adding that more scientific urban planning is needed to realize this goal.