Li Yong chosen as new UNIDO chief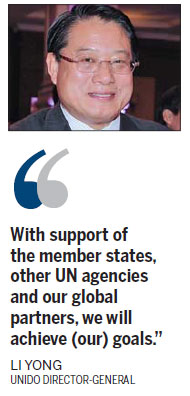 China welcomed the election on Tuesday of its vice-minister of finance as director-general of the United Nations Industrial Development Organization, vowing to continue strengthening cooperation with the UN agency.
Li Yong, 61, won a majority of 37 votes from member states in the first round of voting on Monday, becoming the first person from the Chinese mainland to lead a UN agency.
He will succeed Kandeh Yumkella, from Sierra Leone, whose second term ends this month.
With a four-year term ahead, Li said the organization, founded in 1966, now faces many challenges such as funding problems, providing more services and shrinking confidence resulting from members' withdrawal.
"We have to plan for international development after 2015 and realign our roles," he said. "With support of the member states, other UN agencies and our global partners, we will achieve these goals."
Both China's Ministry of Commerce and Ministry of Foreign Affairs congratulated Li shortly after his election, vowing to render continuous support to the organization and its new director-general.
"China has maintained close collaboration with UNIDO over the past 40 years," Ministry of Commerce spokesman Shen Danyang said.
"Through technology cooperation projects, the agency has brought to China advanced skills, management expertise and crucial equipment, contributing greatly to China's industrial and social development," he said.
Foreign Ministry spokeswoman Hua Chunying highlighted Li's talents on Tuesday.
"Li, long devoted to the endeavor of international development cooperation, has a good professional background and career experience," Hua said. "We believe the UNIDO secretariat will provide better service under his leadership."
Li is known as a senior Chinese economic and financial policymaker and has been a member of the Monetary Policy Committee of the Chinese central bank for a decade.
Experts said that Li's breakthrough election reflects China's increased international standing and influence, given the fact that Chinese staff members in UN agencies have been scarce for years.
Zhang Xiaoan, vice-president of the UN Association of China, said that Li's experience in multilateral international institutions and his knowledge in economics will help him become accustomed to the new job.