Beijing fair honors IPR commitments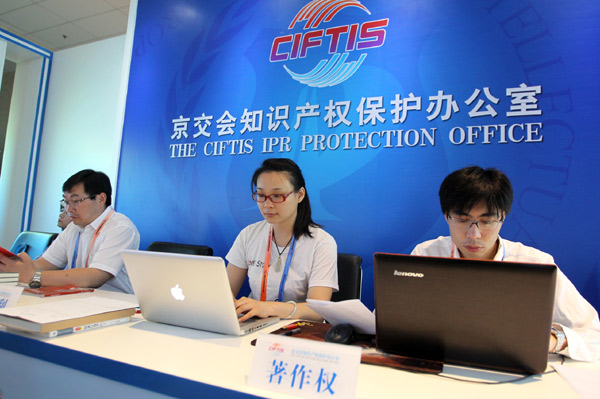 The
IPR
Protection Office at the fair helps deal with rights issues. [Photo/China Daily]
At trade fairs, complaints on intellectual property right infringements are commonplace, but not so at the China (Beijing) International Fair for Trade in Services.
To be specific, the fair didn't receive any complaints in its first outing last year, and organizers hope that their strict supervision of IPRs can help keep their zero-complaint record at the second edition.
Organizers held a conference on IPR protection on April 25, more than a month ahead of the event opening on Tuesday.
Ni Yaogang, deputy director of Beijing Municipal Commission of Commerce, announced a list of leading groups in charge of IP protection on this year's event, which is led by Wang Hong, director of Beijing Intellectual Property Office.
Other members include local cultural authorities as well as senior officials from Beijing Administration for Industry and Commerce, and the fair's organizing committee.
Their major responsibilities are to coordinate departments to deal with the IP consultations and complaints, and provide guidance to an IP protection office set up for the fair.
Ni said he hoped no IPR complaints pop up at the second edition of the fair.
To achieve the goal, more efforts have been made to strengthen the protection, he said.
The local IPR protection administration has compiled brochures of IPR protection for trade in services and a book of case studies in this field. All these materials have been distributed to participants before the event opened.
They also dispatched enforcement officials to handle the IPR consultation and disputes at the exhibition site.
In addition, the participating companies as well as organizers and supporters have been required to sign a letter of commitment on IP protection, pledging to comply the relevant rules and regulations and contributing to the work of IPR protection.
More than 200 corporate representatives participated in a training session on IPRs, organized by fair organizers.