Digital era turns a new chapter in storytelling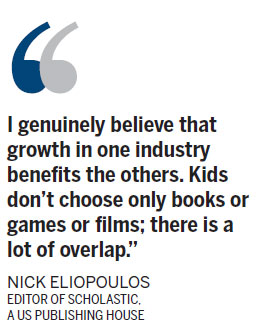 Storytelling is no longer mouth-to-ear. In the digital era, it is interactive and is more than just books.
That is the message organizers of the Frankfurt Book Fair and the German Book Information Center Beijing want to deliver at this year's StoryDrive China Conference, held in conjunction with the China International Fair for Trade in Services.
A group of 10 top German designers from Deustcher Designer Club have been invited to show their visual storytelling strategies and illustrate their conceptual perspectives on their design works.
"We hope the platform of Story-Drive China we build here in Beijing can bring more opportunities to brainstorm," said Holgar Volland, vice-president of Frankfurt Book Fair at the opening remarks of the conference.
"Traditional publishing industries and new communication channels give chances as well challenges."
Bartlomiej Rozbicki, CEO of Ars Thanea, a Warsaw-based production studio, shared his views on transmedia storytelling.
"I think the future is interactive. You can easily see that in the marketing budgets spent each year in the different media," he said. "Nowadays games are incredibly complex and they are similar to films on many levels."
The studio's Puzzle Craft is played by more than 2 million players worldwide, 30 percent of whom are in China.
Nick Eliopoulos, editor of Scholastic, a US publishing house, said: "We're in the unique position of approaching the same audience in very different ways.
"I genuinely believe that growth in one industry benefits the others. Kids don't choose only books or games or films; there is a lot of overlap. At the very least, we should all aim to cultivate fans of the story. At best, we can actively encourage fans to seek out more stories in a variety of media."
In China's digital publishing market, the e-book trade is booming, said Shi Tao, vice-president and general manager of Global Business of JD.com, which has 4 million e-book readers. "But we are not sure when and how the content providers can benefit from the prospering market."
As a part of China International Fair for Trade in Services, StoryDrive China became the first all-media platform in Asia dedicated to exploring new forms of collaboration and business models across media boundaries.
The Frankfurt Book Fair created the all-media platform Frankfurt StoryDrive in 2010.
Frankfurt StoryDrive reflects the changes, developments and trends that are currently evolving in the content industries.
It is the first organized business platform that brings together the worlds of media and entertainment. StoryDrive takes place every October during the Frankfurt Book Fair, the biggest media fair in the world.