Tobacco companies go online for ad space
Legal loopholes allow promoters to bypass existing advertisement law
According to a recent report released just in time for World No-Tobacco Day on Friday, tobacco companies have reduced their advertisements in traditional media, but are looking to step up their presence on the Internet.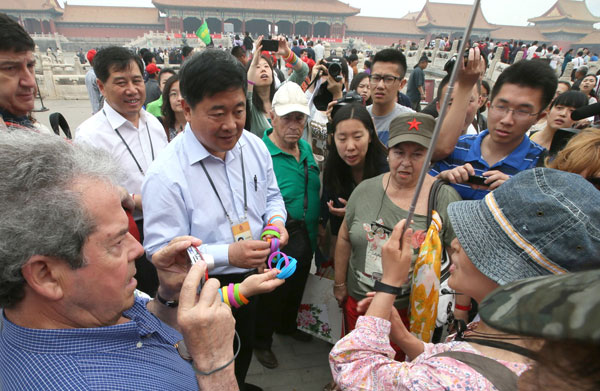 Beijing's Palace Museum curator Shan Jixiang and his co-workers give visitors plastic bracelets with "Smoke-free Palace Museum" printed on them. The Palace Museum announced this month that it will become a no-smoking zone. FU DING / FOR CHINA DAILY
The Beijing Center for Disease Control and Prevention compiled the report after monitoring 32 TV channels, 91 newspapers and magazines, and various Internet media, including commercial websites and micro blogs.
Of the TV channels monitored, researchers found tobacco advertisements were broadcast 117 times on two channels from May 13 to May 19 this year, compared with 678 times on 19 channels from May 18 to May 24 in 2009.
The TV stations monitored were 15 channels of China Central Television, 11 channels of Beijing TV and six provincial television channels.
"These ads are indirect promotions of tobacco manufacturers, because direct ads for tobacco products in traditional media are strictly prohibited by the Advertisement Law," said Liu Xiurong, director of the center's health department.
The law, formulated in 1994, banned tobacco advertisements on five types of traditional media — radio, TV, movies, newspapers and magazines.
It also forbids tobacco ads in public areas such as waiting rooms, theaters, meeting halls and sports venues.
Liu said the law does not make it clear that indirect ads for tobacco brands should also be banned. Tobacco manufacturers are still taking advantage of this to air such promotions, such as when a channel of CCTV aired a promotion for Hongta Group, a tobacco manufacturer based in Yunnan.
Printed media, such as newspapers, have proved more successful in restricting tobacco advertisements compared with TV, with fewer advertisements reported in the same period, although the department found two direct tobacco ads in the printed media, which violated the Advertisement Law.
According to the law, the advertising of tobacco products in traditional media must cease, and violators of the law will forfeit commission for the advertisements and face fines from two times, but not exceeding five times, the commission fees.
Ads in cyberspace
Despite a decline in tobacco advertising in traditional media, companies have shifted their focus to the Internet, as well as increased product placement in movies and TV series, according to the report.
"Tobacco companies have increased their investment in advertising on the Internet," said Chen Feihong, a researcher with the center's health education institute.
"Compared with traditional printed media, the Internet provides many more opportunities for 'soft' tobacco advertisements, such as brand-planting," she said.
Liu from the Beijing CDC said, "For example, they do promotions on their websites and micro blogs, and some are also using the micro blog to form an online group of smokers consuming their products."
Currently there are no regulations on advertisements in Internet-based media.
"This is a supervisory loophole," Chen said.
Yang Jie, deputy director of the Tobacco Control Office of the Chinese Center for Disease Control and Prevention, said the number of online tobacco advertisements has increased dramatically in recent years, due to a lack of specific regulations to supervise Internet-based media.
New measures needed
"The current regulations also result in lighter punishments for tobacco advertisements, and law enforcement sometimes is not strict," he said. "This results in fewer checks into tobacco companies' promotion incentives."
Improved legislative measures on tobacco advertisement are needed to cope with the changing times, he said.
According to a national plan on tobacco control issued last year, legislation will expand to the Internet, and tobacco advertising will be banned in all forms of media, including online media and books. In addition, tobacco brands or improper smoking behavior will be banned in movies and TV series by 2015.
The World Health Organization Framework Convention on Tobacco Control says each party shall "undertake a comprehensive ban of all tobacco advertising, promotion and sponsorship".
Yet the WHO does not regard China's advertising bans as comprehensive. In a 2011 report on the Global Tobacco Epidemic, it said China only "moderately adhered" to current bans.