Small not seen as so beautiful by banks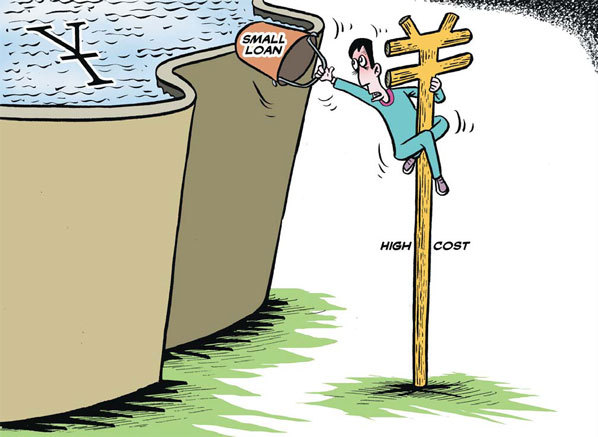 Many State-owned Chinese banks have lowered their loan thresholds for small companies. But on further inquiry many were disappointed. Although the nominal cost of bank loans is not as high as small loans from other financial companies, the actual cost of a loan from a big Chinese bank is usually higher if one takes into account the handling charges, guarantee fees and required deposit. [Photo/Provided to China Daily]
Attempts to woo smaller businesses are seen as half-hearted, say experts
"Going micro" has become a trend for Chinese banks as they change their approach to business.
The term "client sinking" is the new parlance, meaning that rather than nurturing high-profile large companies, the industry is looking to medium, small and micro businesses, said Ba Shusong, a banking expert with the Development Research Center under the State Council, China's cabinet.
"Three to five years ago, small and medium-sized enterprise financing was just talk among bankers. Now more and more bankers tell me privately that driven by a narrower interest spread and fiercer competition, SME financing is changing from talk to concrete action," Ba said.
At an April conference on service innovation for small and medium-sized enterprises in Beijing, of the 33 institutions applauded by the Ministry of Industry and Information Technology, the organizer, 14 were banks and loan guarantee companies. Their services, of course, ensure SMEs' access to credit.
Unlike a similar event held a few years ago, which became a platform for recognizing businesses for the size of the loans they made to SMEs, this time, some participants focused on discussing specific new financing methods. While other attendants listened carefully, some resorted to taking notes to remind themselves of the good practices of their peers.
Cai Yu, a manager with the Postal Savings Bank of China, a bank among the award winners, said over the past five years the bank had used its advantage of having an ubiquitous presence in China's small counties to expand its small and micro enterprise lending business aggressively. The branch he was in, a division set up for small enterprise finance under the bank's Beijing headquarters, targeted small-business owners, offering them a minimum single loan of 1,000 yuan ($162) and a maximum amount of 20 million yuan. His division alone has now extended a total of nearly 400 billion yuan to customers and the PSBC altogether has extended a total of 1.3 trillion yuan to small and micro businesses since 2007.
"Our loan officers have a presence in virtually every county across the country. Instead of requiring borrowers to submit professional financial statements or collateral, which most small and micro businesses are unable to offer, our loan officers mainly check on three measures: water, electricity and necessary financial statements," said Cai.
Small and micro firms can already use various documents, including inventories, accounts receivable and equipment as collateral or pledges to get a loan from the postal bank, instead of traditional requirements such as property and fixed assets.
Driven by greater competition, some Chinese banks are even targeting small and micro credit as their strategic business. China Minsheng Banking Corp is a pioneer among them. The bank's lending to small and micro businesses is pioneering the industry, with outstanding loans of 316.9 billion yuan by the end of 2012, up 36.3 percent from the end of 2011. Its unique business portfolio created a return on net assets of 25.24 percent in 2012, the highest among all listed banks.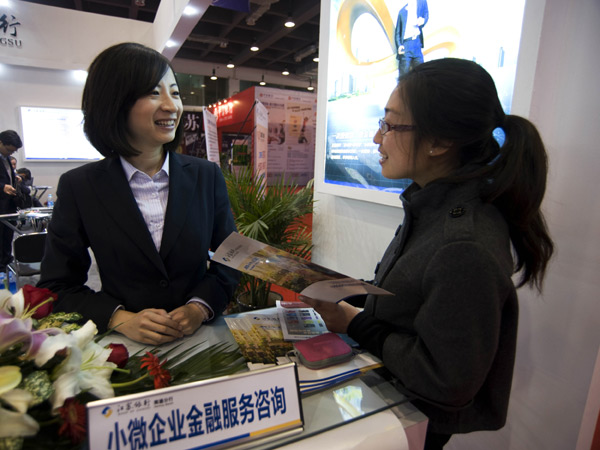 A micro business owner consulting on ways to apply for a small bank loan during a financial and banking service promotion in Nantong, Jiangsu province. Driven by greater competition, some Chinese banks are even targeting small and micro credit as their strategic business. [Photo/Provided to China Daily]