Lenovo eyes high-end mobiles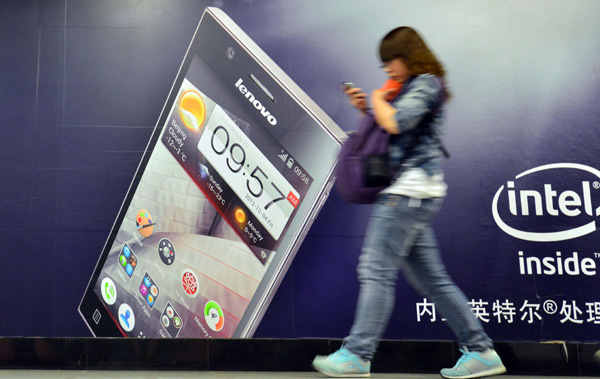 A
Lenovo
smartphone
advertisement
in a
Beijing
subway station. The world's second largest PC producer by shipments now plans to become a strong compet
ito
r of Apple and Samsung in the production of smart electronic devices. [Photo/Provided to China Daily]
As PC era ends, company seeks profits from other hardware
Lenovo Group is eyeing the high-end mobile market and plans to make it generate profits in the post-personal computer era.
The world's second largest PC maker by shipments has speeded up its business transition this year in efforts to become a strong consumer electronics company to compete with Apple Inc and Samsung Electronics Co.
"Lenovo will become the No 1 smartphone vendor within China in two years," said Liu Jun, senior vice-president of Lenovo and head of the company's PC, smartphone and tablet businesses.
Sales turnover of Lenovo's smartphone business is projected to make up more than 15 percent of the company's total by the end of this year, he said.
On May 16, the Beijing-based manufacturer released its latest smartphone, the K900. Selling at 3,299 yuan ($538), the company hopes the new device will attract customers from Samsung's Galaxy Note series and Apple's iPhone 5.
Lenovo hopes to sell 1 milliion of the new devices in China, saying the market needs new gadgets to break Apple and Samsung's domination of the high-end market.
High-end customers in China need more options and Lenovo is poised to fulfill that demand, said Liu.
Smartphones priced above 3,000 yuan are categorized as high-end products. They took 10 to 15 percent of the market share in China, according to Chen Wenhui, Lenovo's vice-president and head of its mobile business.
During the first quarter of this year, Lenovo's China market share lagged behind Samsung, Nokia Corp and Apple because the company's smartphones did not get much market attention until last year, the report pointed out.
Samsung took nearly a quarter of the nation's market share while the declining Nokia managed 15 percent. Accused of being slow to release the latest iPhone and of having a poorer warranty than in other countries, Apple grabbed about 13 percent of the market share in China, said iiMedia Research.
Although overseas brands took more market share and sell more high-end devices in the country, there is "a strong momentum" for local brands to take market share from overseas vendors in the coming quarters, added the research company.
Lenovo was the top local smartphone maker in terms of market share.
PC slump
Lenovo's "attack" strategy in the mobile market comes in the middle of a damaging recession in the PC industry.
United States research company IDC warned earlier this year that international PC shipments are poised to suffer a double-digit slump in the second quarter of this year.