Promoting Chinese medical devices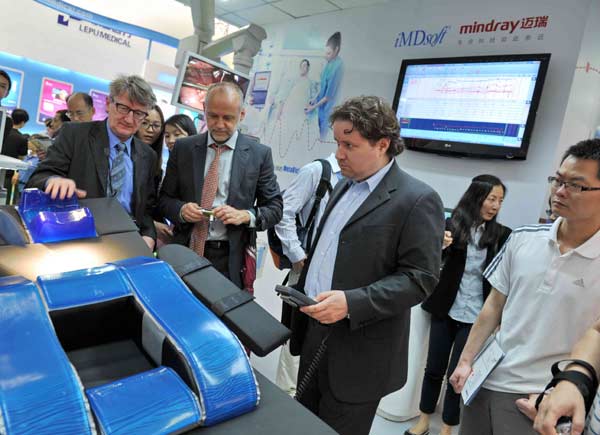 International companies' representatives showing a strong interest in medical equipment made by Mindray Medical, a leading Chinese medical equipment producer, at a recent pharmaceutical fair in Beijing. A notable achievement for Mindray in the UK is successfully entering the procurement system of the country's national health service. [Photo/Provided to China Daily]
CEO's ambition to sell home-grown Kanghui equipment on world stage
Yang Libo worked in a medical device unit of Johnson & Johnson for four years before becoming chief executive officer in 2005 of privately owned China Kanghui Holdings, a leading Chinese orthopedics implants company.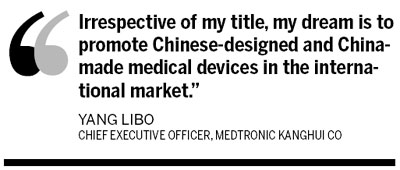 Now his title is chief executive officer of Medtronic Kanghui Co, an independent unit of the multinational equipment provider, after his company was acquired by US-based Medtronic last October for $816 million.
"Irrespective of my title, my dream is to promote Chinese-designed and China-made medical devices in the international market," said Yang, adding that he believes the acquisition will be a crucial step in supporting Kanghui's entry into developed markets.
"We are proud of the company we've built and recognize there is a tremendous opportunity to accelerate our global vision by building on Medtronic's size, scale and expertise as part of this combined organization," he said.
After overseas study and work experience, Yang was hired by the founder of Kanghui, Jiang Yikang, in 2005 primarily to explore the original equipment manufacturing business. Three years later, Kanghui, based in Changzhou, Jiangsu, had become the original equipment manufacturer for three of the world's leading medical equipment companies, including US Paragon Medical Inc. In 2006, Yang successfully injected $10 million in venture capital from IDG Venture and Venture TDF Pte Ltd and received a second round of financing in 2008.
With the dream of internationalizing the brand of Kanghui, Yang and Jiang decided to export their products first to developing markets, such as the Middle East, Africa and Southeast Asia. Currently, its trauma, spine and surgical instruments are sold in 29 nations and regions around the world.
Listing in New York in August 2010 helped Kanghui raise $68.4 million. With sales exceeding 300 million yuan ($45.45 million) last year and double-digit annual growth, the Chinese company's gross profit margin has been above 70 percent and its net profit ratio exceeds 30 percent.
Despite the remarkable performance, Yang admitted that his dream has not been fully realized and access to developed markets is not easy.
"It's difficult to get our self-developed branded devices recognized in mature markets," said Yang, adding there were two reasons. One is that the mainstream medical industry - the professionals in high-end research institutes and top doctors in key hospitals - in the West have no access to knowledge of China-branded products and so do not buy them. Second, those that do know about Chinese products demand low prices, which squeezes the profits of Chinese companies. "Selling at very low prices may result in a funding crunch in research and development but high prices may lead to no orders," said Yang.
The deal with Medtronic is a way for Kanghui to have a presence in mature markets, establish its own brand and realize the true market value of its innovative products, said Guo Fanli, an analyst with China Investment Consulting Co.
After the acquisition, Kanghui is still independently operated by Yang and his team and Medtronic's engineers are to be introduced to jointly develop Kanghui and help it get access to global branding and sales. "We are to bring to Medtronic our local operating expertise, including our wide distribution network, strong local sales and marketing teams, local manufacturing and R&D," said Yang.
Kanghui's combined portfolio expands Medtronic's offerings in orthopedic surgery and complements the company's existing presence in spine, neurosurgery, neuromodulation, advanced energy and surgical navigation, according to Chris O'Connell, executive vice-president and president of Medtronic's Restorative Therapies Group.
Chinese and foreign companies' collaboration mainly aims at complementary product portfolios, market access, registration efficiency and distribution platforms, said Peter Hua, managing partner of Soft Bank China Venture Capital. "However, certification is also a hindrance for domestic companies to go global because local certification is very difficult to get in developed markets, especially Europe," he said.
Some powerful Chinese players are proactive, seeking to go out organically or via mergers and acquisitions.