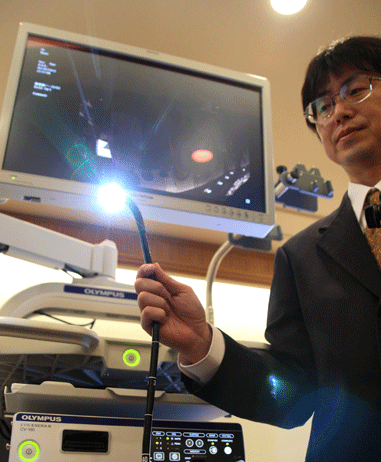 An Olympus Medical Systems Corp employee demonstrates the company's new video endoscopy system during a news briefing in Tokyo on Wednesday. [Tomohiro Ohsumi / Bloomberg]
Japan's scandal-hit Olympus Corp on Wednesday unveiled three new medical products that it hopes will help it out of the crisis left by a huge accounting fraud uncovered last year, threatening to destroy the 92-year-old company.
Better known for its cameras, the company is pinning its future on medical equipment and in particular diagnostic endoscopes in which it already controls about 70 percent of the global market.
"Without growth in our medical business, I do not think there will be a revival for Olympus," Hiroyuki Sasa, the company's president-nominee and head of Olympus's medical equipment marketing business, said at an event for the product launch.
It has survived the $1.7 billion fraud case that surfaced last October in one of Japan's worst corporate scandals, partly because of its profitable medical business, which accounts for about 40 percent of total sales.
But the company has been unable to shake off criticism of its management, and foreign shareholders have demanded for an independent board.
Sasa, also an executive officer, was nominated by Olympus in February to become president and take over from Shuichi Takayama, who has been sued by the company for mismanagement.
Olympus also nominated a new board, including a former banker from its main lender Sumitomo Mitsui Banking, as chairman.
Sony Corp and Panasonic Corp and rival endoscope maker Fujifilm Holdings Corp are rumored to be interested in making a strategic investment in Olympus.
Olympus launched three new products - a gastrointestinal video endoscopy system, a low-cost endoscopic videoscope system and a blood vessel sealing and tissue cutting device, all aimed at overseas markets.
Olympus also released a low-cost endoscopic videoscope system, named Axeon, for emerging markets including China and India, as well as an energy-based surgical device, called Thunderbeat, the first product in the world that seals vessels and cuts tissues using both bipolar high frequency and ultrasonic energy.
The company said it aims to sell 5,000 to 7,000 EVIS EXERA III systems, which costs about 10 million yen ($119,600), a year, and 3,000 to 3,500 Axeon systems, which will be under 2.5 million yen.
It declined to reveal its sales target for Thunderbeat, whose system costs about $35,000 and handheld device about $850.
Olympus controls about 13 percent of the global energy-based surgical device market, lagging behind Covidien and Ethicon, a unit of Johnson & Johnson.
Olympus shares, which have lost nearly half their value since the scandal erupted, closed down 2.1 percent at 1,307 yen on Wednesday, against a 0.6 percent fall in the benchmark Nikkei average.
Reuters in Tokyo