Suntech may sell Italian assets to fund restructuring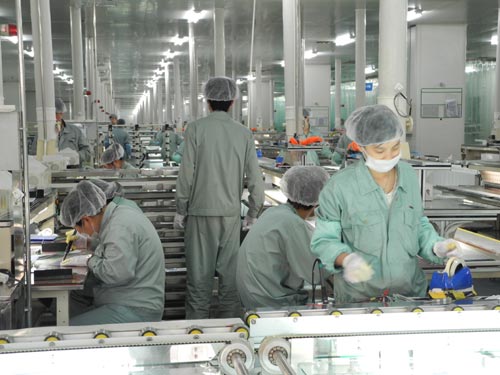 Suntech Power Holdings Co Ltd's production line in Wuxi, Jiangsu province. [Provided to China Daily]
China's cash-strapped solar giant Suntech Power Holdings Co Ltd appears to have found an alternative to selling its bankrupt Wuxi subsidiary to fund its own restructuring plan.
The company could sell solar power generation assets in Italy.
Reports said selling the assets may generate hundreds of millions of dollars that would help ease the company's debt woes, but some industry insiders doubt if it could strike a satisfactory bargain, due to its urgent demand for cash.
"We intend to operate GSF for the time being and will consider all options to maximize the value for our stakeholders," Suntech's spokesman said on Wednesday when asked whether the company would sell its 88.15 percent stake in Global Solar Fund Sicar (GSF Sicar), a Luxembourg-based fund specializing in the development of solar power projects mainly in Italy.
Media reports said the fund carries an enterprise value of up to $800 million, including more than $600 million in loans from China Development Bank.
The fund also owns 142-megawatt solar projects in Italy, 141 mW of which is now connected to the grid, the Suntech spokesman said.
Ocean Yuan, president of Grape Solar, an importer of solar panels based in Eugene, Oregon, said: "The Italian solar farm was built with around $600 million in loans when solar panel and inverters prices were at a higher level than they are today. Therefore, the net equity Suntech put into the project is worth nothing now."
Gu Limin, an analyst with IHS iSuppli market research firm, said: "Suntech lacks positive messages nowadays, and there is no good news coming from the ongoing restructuring of its Wuxi subsidiary. It will be hard to find a strategic investor coming up with a generous offer."
Media reports have suggested previously that billionaire Warren Buffett could come to Suntech's rescue, igniting hopes that it could find the capital it needs for a turnaround plan. Shares in Suntech rallied after those reports.
Yuan said compared to the Wuxi subsidiary, which is a manufacturer, it is more likely that Buffett's Berkshire Hathaway could negotiate a deal with Suntech for the Italian solar farm at a deep discount.
Suntech Power had total debts of $2.2 billion at the end of March 2012. It announced that its biggest subsidiary, Wuxi Suntech, had filed for bankruptcy last month after defaulting on $541 million of its dollar-denominated bonds.
Meanwhile, fellow Chinese solar giant LDK Solar Co Ltd announced on Tuesday it had partially defaulted on a $24 million bond.
LDK said due to cash-flow problems, it was unable to make full payments to the holders of 4.75 percent convertible senior notes due in 2013 at an aggregate principal amount of $23.79 million.
The company said it has privately and individually negotiated with two holders of its convertible notes and reached settlement with them, shortly before the maturity date, through a partial payment in cash, serving effectively as a loan facility to postpone the repayment of the remaining debt.
LDK, based in Jiangxi province, is the world's largest producer of solar wafers.