Wuxi court declares Suntech bankrupt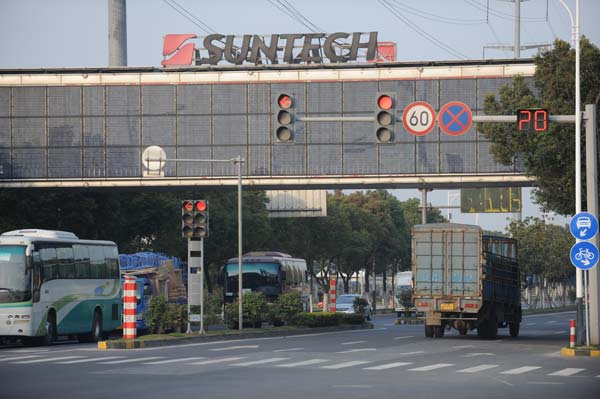 Solar panels made by Suntech Power Holdings Co on an overpass in Wuxi, Jiangsu province. A court in Wuxi ruled on Wednesday that the debt-ridden company is bankrupt and must be reorganized, at the request of creditors. [Photo/Xinhua] 
Solar panel giant to 'reorganize'after it defaults on bond repayment
Suntech, one of the world's biggest solar panel manufacturers, was declared bankrupt on Wednesday, ringing alarm bells in the nation's solar industry.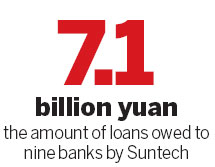 Xinhua News Agency reported on Wednesday that a court in Wuxi, Suntech Power Holdings Co's base, had ruled that the company undergo "bankruptcy reorganization".
The announcement came two days after Suntech said it had defaulted on a $541 million bond payment.
The company has been badly hit by oversupply in the global market for solar cells and panels, as well as by trade disputes with the United States and Europe over alleged Chinese dumping and government subsidies to producers.
The board of the company ousted its founder, Shi Zheng-rong as chairman earlier this month.
The 21st Century Business Herald on Wednesday quoted sources as saying Shi had the support of the Wuxi government and could return to Suntech as part of the reorganization.
By the end of February, nine major Chinese commercial banks had lent Suntech a total of 7.1 billion yuan ($1.14 billion), Xinhua reported.
Shi founded Suntech in 2002 and took the company public three years later, becoming the world's first solar billionaire.
He obtained credit from China Development Bank Corp that helped him wrest control of the industry from German and Japanese competitors.
But a sharp drop in solar panel prices in recent years has wiped out the profits of solar panel makers around the world.
Suntech was also hurt by a report in July that a business partner faked $680 million in collateral for a loan Suntech had guaranteed.
Related Readings
Suntech 'could be sued' over $541m in unpaid bonds

Unusual share dealing keeps focus on Suntech

Suntech to shut lone US plant, blaming high costs

Suntech's fate dims amid conflict

Suntech gets $32m emergency loan from local gov't