Suntech rises on buyout rumors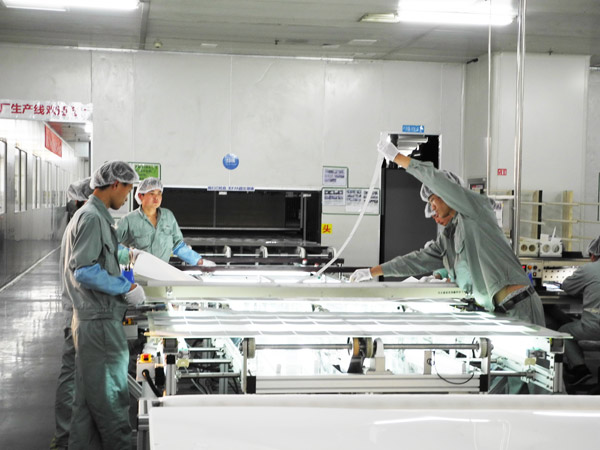 Workers assemble solar panels at Wuxi Suntech, which defaulted on a $541 million bond repayment in March, in Jiangsu province. Experts say that a possible acquisition by Warren Buffett is very likely due to the billionaire's investment habits and would be a win-win situation. [Provided to China Daily]

Reports say Buffett 'very likely' to purchase troubled solar panel firm
Shares in Suntech Power Holdings Co have rallied after a report that billionaire Warren Buffett is set to come to the troubled Chinese solar panel maker's rescue, igniting hope that it could find the capital it needs for a turnaround plan.
The New York-listed company rose 15.63 percent to $0.48 on Monday. Bloomberg reported that Suntech shares had jumped as much as 28 percent, after it said Buffett's MidAmerican Energy Holdings Co may buy the company's bankrupted Wuxi subsidiary. Both Suntech and MidAmerican Energy declined to comment on the market speculation.
"If the rumor turns out to be true, which I personally think very likely, it may create a win-win situation," said Cheng Peng, a partner with Adfaith Management Consulting.
The bankrupt Suntech subsidiary would be a great bargain for Buffett, Cheng added, assuming the parent company would be glad to get rid of the burden at a bargain-basement price.
Wuxi Suntech, analysts said, still holds some good-quality assets, including land, equipment, its workforce and also technology.
The proposed acquisition "is in accordance with Buffett's investment habits, which emphasizes long-term returns," Cheng said.
"For Suntech, Buffett's investment could not only quench its thirst for capital, but also strongly boost confidence of shareholders, clients, and customers."
Citing an insider in the Wuxi government, National Business News said that a restructuring plan for Wuxi Suntech is expected within six to nine months.