Suntech bankruptcy hurts new energy drive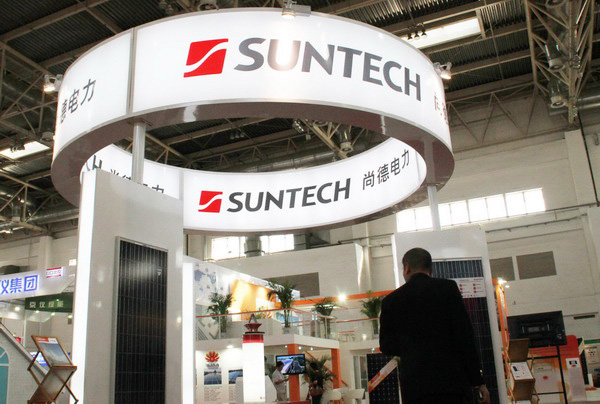 Wuxi Suntech's booth is seen at an exhibition in Beijing, Sept 5, 2012. The solar panel giant declared bankruptcy Wednesday, which was considered a heavy blow to China's new solar industry. [Wu Changqing / Asianewsphoto] 
BEIJING -- The bankruptcy of solar panel giant Wuxi Suntech made front page news on Thursday, with many reports looking to the factors that caused the bankruptcy, as well as the bankruptcy's future impact.
Suntech's problems are undoubtedly a heavy blow to the industry and the country's drive to promote new energy. Hopes that were pinned on the sector's rise have been dashed.
On Wednesday, the Wuxi City Intermediate People's Court approved Wuxi Suntech's bankruptcy following a joint application issued by the company's nine creditor banks on Monday.
Suntech is not the first solar energy company to find itself trapped in a debt crisis. Chaori Solar, another leading player in the solar energy industry, ran into debt last December. On Thursday, Chaori reminded its investors that its losses in 2012 may be as huge as 1.3 billion yuan ($209 million).
Generally speaking, none of the companies operating in the solar industry have been in a comfortable position in recent years. It's not a problem that is specific to any one company - the whole industry is in danger.
Some have criticized Suntech and some other companies for misjudging the market and expanding without measure. But the real reasons behind the crisis lie in the sector's lack of cost-efficiency.
For many years, solar energy companies have had to rely on government subsidies to make profits. However, these subsidies have generally fallen short of the industry's expectations.
Externally, the global economic crisis had a fatal impact on the solar energy industry, especially leading companies that sell most of their products in the international market. Since 2008, major solar markets, including Europe and the US, have shrunk dramatically, while anti-dumping and anti-subsidy moves targeting solar energy products have made things even worse.
As a result, solar energy companies have had to rely on the domestic market. In January, the government said solar facilities capable of generating a combined 10 gigawatts of power would be installed this year. However, analysts believe that if subsidies, grid connection policies and financing channels are not improved, it will be hard to reach the target.
China has been making great efforts to encourage renewable energy development to provide power for its fast economic growth while preventing the environment from worsening. For many years, China's economy has been powered mainly by coal, which accounts for over 60 percent of the nation's total energy consumption.
In its 12th Five-Year Plan (2011-2015), the government paid special attention to new energy industries, including solar energy, wind power, hydropower, nuclear power and biomass energy. The government has shown determination to solve China's pollution problems.
But achieving this goal will require the government to adjust its policies in pace with the development of the solar industry.
Globally speaking, new energy is closely related to the welfare of mankind. China has already become a leader in new energy development and will contribute even more in the future. To that end, it would be prudent for all the world's countries to refrain from engaging in trade wars and protectionism targeting new energy products.
Earlier reports
Wuxi court declares Suntech bankrupt
Suntech 'could be sued' over $541m in unpaid bonds
Unusual share dealing keeps focus on Suntech
Suntech to shut lone US plant, blaming high costs
Suntech's fate dims amid conflict
Solar firms warned on delisting