China Mobile to challenge WeChat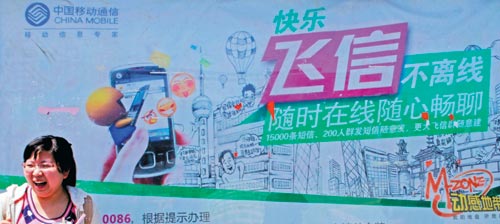 An advertisement for Fetion, an instant-messaging service provided by China Mobile Ltd, in Yichang, Hubei province. A total of four subsidiary projects worth 638 million yuan are listed in the tender for operating the Fetion service, launched by the company. [Provided to China Daily]
China Mobile Ltd, the nation's biggest telecom operator, has launched public bidding for operating its Fetion service, an instant messaging tool similar to Tencent Holdings Ltd's WeChat.
Previously, Fetion was solely operated by Beijing Ultrapower Software Co Ltd.
China Mobile's move is seen by many analysts as a strategic step to restructure Fetion and take on Tencent's WeChat.
Growth Enterprise Board-listed Ultrapower applied for a one-day trading suspension for "potential major incidents" on Monday. The company resumed trading on Tuesday, but its stock price dropped by the daily limit of 9.99 percent, closing at 18.56 yuan ($3).
China Mobile's Guangdong branch is conducting the bidding process. Four subsidiary projects, worth 638 million yuan, are listed in the tender.
Zhang Qianshan, general manager of Ultrapower's strategic investment department, said China Mobile wants to enhance its presence in the mobile Internet sector.
"An open tender is to introduce competition, which will be good for Fetion's development," he said.
Li Zheren, an analyst with Beijing Gaohua Securities, expected Ultrapower to win the majority of contracts from China Mobile, based on its experience and talent pool.
"Before the announcement of the open tender result, there will be pressure on Ultrapower's stock price in the short term," he said.
Launched in May 2007, Fetion once enjoyed great popularity and attracted hundreds of millions of users in China.
However, the service faded out recently, largely due to strong competition from Internet companies such as Tencent and Sina.