Copper giant seeks investment
Funds needed to help boost firm's expansion into other resources
Jiangxi Copper Corp, China's largest copper producer, is seeking further investments and looking to expand into other resources such as rare earths, in a bid to become one of the world's top five mining groups within 10 to 15 years.
"We would like to further our investment in the securities and banking sector, in particular, to support that goal," said Li Baomin, the chairman and a deputy of the 12th National People's Congress.
Li, who was appointed chairman on March 4, said the company is ranked 24th globally, taking into consideration sales revenue, profits and market value.
It is currently the second-largest shareholder in Bank of Nanchang, a local bank in Jiangxi province, and has also invested 1 billion yuan ($160.8 million) in establishing an international trade company in Shanghai, which, according to Li, has already made 300 million yuan in profits in the last two years.
"Next, if the conditions are right, we would like to make breakthroughs into other sectors such as lead-zinc and rare earths, and to nurture one or two more listed companies," Li said.
JCC was listed in Hong Kong in 1997 and Shanghai in 2001.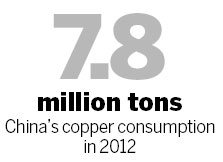 In June 2008 it bought the country's second-largest rare earths mine in Mianning, Sichuan province, for 430 million yuan, which has verified reserves of nearly 2 million metric tons.
"The building of our rare earth mine in Sichuan is making orderly progress, but when it starts operation depends on the speed of various procedural issues."
Although it isn't likely to start operation this year, Li said the mine would be put into production within the 12th Five-Year Plan (2011-15).
Once the mine is up and running it will make JCC one of the major players in China's rare earths industry, along with Baogang Group from Inner Mongolia autonomous region and China Minmetals Corp.
China's copper consumption has grown from 1.9 million tons in 2000 to 7.8 million tons in 2012, accounting for 40 percent of the world's total.
But more than 70 percent of domestic consumption still relies on imports, Li said, and he called for more government support for Chinese mining enterprises to acquire overseas resources to boost domestic supply.
Li said copper demand in China is likely to grow another 9 to 10 percent, which should drive up the copper price to an average of $8,100 a ton.
The three-month copper futures price on the London Metal Exchange, a benchmark price, was $7,810 per ton on Thursday.
Although JCC is the largest producer of copper products in China and second-largest in the world, pricing still remains a problem, Li said.
Most of China's copper enterprises are barely breaking even because 90 percent of the profits are in the hands of foreign companies, he said.
JCC is in joint venture with China Metallurgical Group Corp in Afghanistan and Minmetals in Peru to develop copper mines in those countries.
Li said those projects are sometimes hindered by disputes with local officials over issues such as striking workers.
Li suggested that many of the problems could only be solved with help from the national government "but this is still missing at the moment".
weitian@chinadaily.com.cn