China builds on border trade
By Li Jiabao in Beijing and Wang Kaihao in Manzhouli, Inner Monglia | China Daily | Updated: 2013-03-04 09:01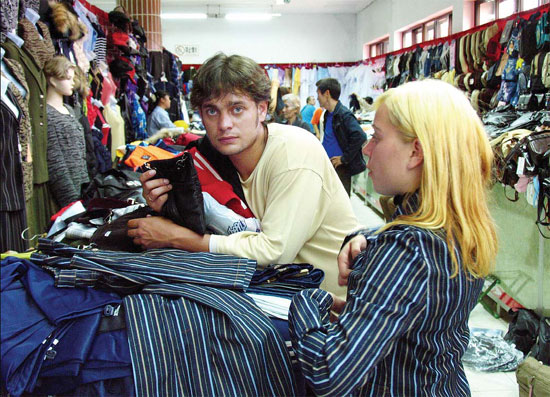 Two Russian businesspeople in a garment market in Manzhouli in North China's Inner Mongolia autonomous region. Border trade has brought prominence to Manzhouli as China's largest inland port, accounting for about 70 percent of land trade between China and Russia. Amid deepening China-Russia ties, the city, with a population of 300,000 in 2012 and a size of 732 square kilometers, is experiencing a new boom. [Photo/China Daily]
Russia's entry to WTO creates huge opportunities for entrepreneurship
Russia's accession to the World Trade Organization and the consequent tariff reduction with China implies promising opportunities for Chinese businesses as border trade between the two countries is expected to boom.
"We have finished production for all the orders before May," said Ge Shengchun, general manager of Jasmine Glass Technology Co based in Manzhouli, a city in Northeast China's Inner Mongolia autonomous region that borders Russia to the north and Mongolia to the west.
Ge set up the 20,000-square- kilometer glass plant in 2008 with an investment of 250 million yuan ($40.05 million). About 90 percent of his products, including concave glass, frosted glass and armoured glass, were sold to Russia and cornered more than half of the markets in cities in the Russian Far East, including Chita, Ulan-Ude and Irkutsk.
"Our priority is not the Chinese market. We are diversifying out overseas markets to reduce risks. We will enter the Hungary market this year and may set up sales networks in South Asian countries such as India in the future," he said.
Another regional businessman, Yu Hongwei, deputy manager of Manzhouli Yiliya Fruits Trade Co, said: "Price is our biggest competitive edge. Our product quality is in the middle level."
The company exports about 40,000 tons of vegetables and fruits to Russia every year, about 10 percent of Manzhouli's total fresh food exports. Tomatoes account for the biggest share. A total of 320,000 tons of vegetables and fruits passed through the Manzhouli customs' Shibali port in 2012. A specially dedicated lane reduced the one-time hour-long passage to less than 20 minutes, according to the port's deputy director Liu Juan.
Border trade has brought prominence to Manzhouli as China's largest inland port, accounting for about 70 percent of land trade between China and Russia. Amid deepening China-Russia ties, the city, with a population of 300,000 in 2012 and a size of 732 sq km, is facing a new boom. China's determination to open up inland regions and Russia's accession to the WTO is set to improve trade and investment environments.
The two nations' bilateral trade saw an increase of 7.1 percent year-on-year to reach $7.68 billion in January, while China's exports rose 26 percent compared with the same month in 2012, according to the Ministry of Commerce.
Accession to WTO
Russia was accepted as the 156th member of the WTO on Aug 22, 2012, with a process of accession of more than 19 years.
At the end of the implementation period, the average tariff ceiling for Russian imported products will be lowered to 7.8 percent from the average 10 percent that was applied before accession. The average tariff ceiling for manufactured products will be 7.3 percent instead of 9.5 percent while the average tariff ceiling for agricultural goods will be 10.8 percent instead of the earlier average of 13.2 percent.
In addition, Russia has offered improved market access opportunities in certain areas of goods and in many service sectors, according to the WTO.

"After accession to the WTO, Russia started to scrap differentiated taxes in transportation, which discriminated against foreign goods, and enhanced transparency through removing the price determining mechanism of imported goods. It's very meaningful for high quality Chinese products with competitive prices to enter Russia," Wang Junwen, president of China Association of International Trade, said during a forum on Jan 17 in Boao, Hainan province.
"The mentality and attitudes of Russian businessmen are changing after the accession to the WTO and trade areas are expanding. Chinese exports, occupying the middle- and low-end of Russia markets with price advantages will expand. We also see an enlarging import inventory and the prospect is bright for trade in gas, grain and minerals," Zou Jifeng, deputy mayor of Manzhouli, told China Daily.
Wang from the association pointed to promising China-Russia cooperation in high-tech sectors as Russia undergoes re-industrialization based on high technology and supported by rich resources and talent.
More than 70 percent of China's exports to Russia are now machinery and equipment products, the majority of which are complete sets of equipment products. The share is still expanding in view of Russia's robust demand for equipment in reforming industries and building up infrastructure such as power stations, according to Wang.
"It proves that accession to the WTO brings new opportunities for a country's economic development. Russia and China are highly complementary industrially. Russia did not set obstacles for Chinese industries and capital to enter Russia," said Oleg Soskovets, former first deputy prime minister of Russia, during the Boao forum.
The World Bank estimated that Russia's accession to the WTO will drive the nation's economy to grow by 3 percent while the US expects its exports to Russia will double in five years.