Suning to expand products beyond electronics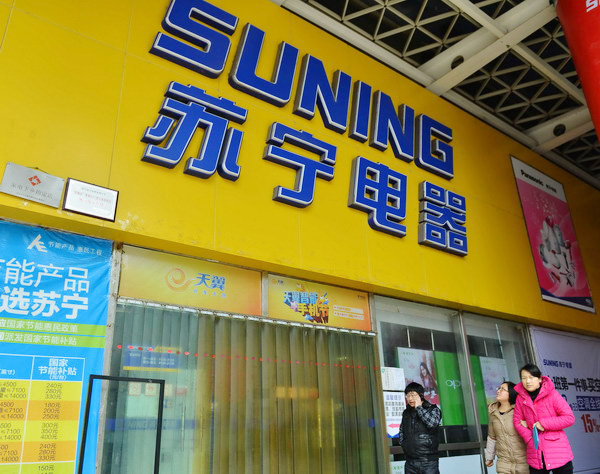 One of Suning Appliance Co Ltd's outlets in Hangzhou, Zhejiang province. The retailer said it is considering opening Suning Expo Super Stores. [Photo / China Daily] 
Appliance retailer aims to become more like Wal-Mart, Amazon
Suning Appliance Co Ltd, China's largest electric appliance retailer by sales, has announced a series of ambitious moves to expand its offerings to other areas of general merchandise.
The Nanjing-based company currently has bricks-and-mortar stores and an e-commerce business, but now wants to move to a model similar to a combination of Wal-Mart Stores Inc and Amazon.com Inc, said Chairman Zhang Jindong.
He said its plans will include changing its name to Suning Commerce Group Co Ltd and involve widening its product categories while flattening its management system.
"Along with a change in Suning's business activities, the scope of its services will be widened," said Zhang.
"The company needs to adapt to a future combination of offline and online sectors, as well as its retail offering."
In 2011, Suning acquired a controlling interest in Laox, the Japanese home appliance brand, which provides goods ranging from electrical appliances to imported cosmetics, marking Suning's initial attempt to move into the high-end market.
Suning now has three Laox stores in Beijing, and the company said it hopes to have as many as 150 operating in 25 large Chinese cities by the end of 2016.
The retailer said it is also considering the opening of Suning Expo Super Stores.
With typical floor areas of 12,000 square meters - similar in size to Wal-Mart outlets - they will offer 2,000 brands of goods ranging from daily necessities to auto accessories. The company plans to have 300 Expo stores by 2015 to showcase their new product mix.
As a key element of the shakeup, the Shenzhen-listed company, which has more than 1,700 brick-and-mortar stores, highlighted further plans for its e-commerce business, too, in an effort to fend off increasing competition from online shopping websites.
Last year, Suning's online shopping website acquired Redbaby, a maternal and infant goods e-commerce website, for $66 million, as well as Binggo.com, a skincare and cosmetics online shop.
"This series of moves shows that Suning is shifting its business focus from just bricks-and-mortar stores to a combination of online and offline, which will benefit the retail giant's future growth," said Gong Bo, an analyst at Beijing United Innovation Capital Ltd.
Suning Appliance changes its name
Suning doubled its sales in 2012
Suning to apply for virtual network operator license
Suning acquires Redbaby to broaden product lines