China's top home appliance retailer, Suning Appliance Co Ltd, is to buy a maternal and infant goods e-commerce website for $66 million.
The move is intended to broaden its product lines so it can better compete with other e-commerce giants selling general merchandise.
The company's online platform Suning.com, a Chinese answer to Best Buy, will acquire Redbaby.com.cn to widen its product lines in maternal and infant goods and cosmetics, said the company's vice-chairman Sun Weimin on Tuesday.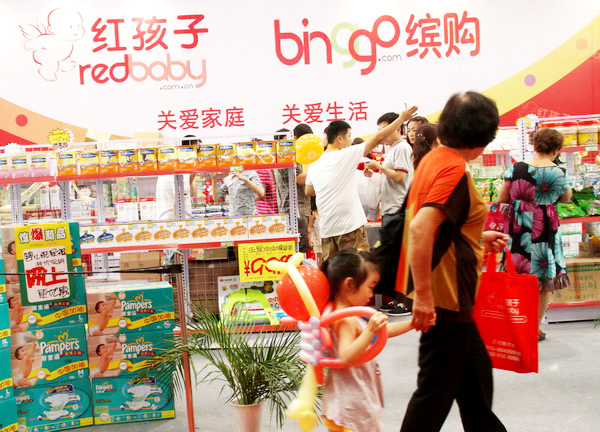 Redbaby.com.cn's booth at a trade fair in Beijing in July. The maternal and infant goods e-commerce website has more than 7.5 million registered customers. [Photo/China Daily] 
The deal is the retailer's first acquisition of an online business and may signal the beginning of a series of buyouts aimed at expanding the company's core business, analysts said.
In the first half of 2012, the online market for maternal and infant goods in China exceeded 20 billion yuan ($3.17 billion) in sales, with expected annual growth of 86 percent. It currently constitutes 4.35 percent of the total online shopping market.
With more than 7.5 million registered customers, Redbaby.com.cn, which was founded in 2004, is one of China's largest business-to-customer shopping sites that mainly sells maternal and children's supplies.
The acquisition includes Redbaby's binggo.com, a website that sells cosmetics and food targeted at women. The company has seen a drop in sales from 2 billion yuan in 2010 to an estimated 1 billion yuan this year, after experiencing challenges with high operating costs and shrinking capital resources.
In contrast, 360buy.com and China Dangdang Inc announced recently that their maternal and children's goods channel sold more than 100 million yuan worth of merchandise in just one month.
Sun said Redbaby's strengths in supply and operation combined with its active and loyal customer base made it Suning's first target for acquisition.
Chen Shousong, an analyst at information technology research firm Analysys International, said Redbaby's skillful personnel and good supply chain will quickly broaden the range of products that Suning sells, helping it to compete with e-commerce rivals.
"It is a cash-for-growth strategy," Chen said, referring to Suning's expectation that its maternal and infant goods business will grow to sales of more than 10 billion yuan by 2015.
Suning will replace its online maternal and children's goods channel with Redbaby's website. Offline, Suning will position Redbaby in its Expo Super Stores, said Li Bin, executive vice-president of Suning.com.
With Sunning's 88 delivery centers and nearly 2,000 express delivery stations, Redbaby will be able to make further inroads into major cities nationwide and lower its logistics costs, he added.
In China's cut-throat online marketplace, Suning competes with 360buy, China Dangdang Inc , Amazon.com Inc and Alibaba Group's Taobao Mall.
Earlier this month China's appliance retailers including Suning and Gome Electrical Appliances Holding Ltd and Beijing Jingdong Century Trading Co, which owns 360buy.com, became involved in a price war, prompting an investigation by the price supervision bureau of the National Development and Reform Commission, China's top economic planning agency.
Suning operates a network of about 1,700 stores and said earlier this month it will open Suning Expo Super Stores in China that will sell everything from books to daily necessities, in a move to offset slow growth in its core business.
Wang Ran, CEO of China eCapital Corporation, a private investment bank, said following Suning's recent acquisition the company may be looking to build a retail super-system that could resemble Walmart and Amazon combined.
wangzhuoqiong@chinadaily.com.cn