Suning Appliance Co, whose business spans electronics, retail malls and e-commerce, will soon be identified as a telecom carrier, aided by a new government directive.
"Ideally, when customers buy mobile phones at either Suning's brick-and-mortar outlets or the online site, the devices come with a package that offers you a SIM card and a customized voice-and-data combo tailored to your needs," said Sun Weimin, Suning's president.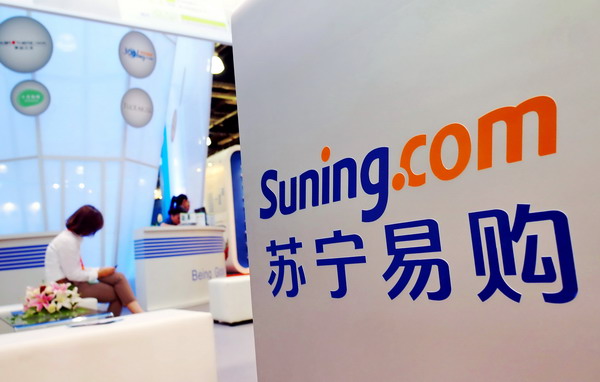 Suning Appliance Co is poised to apply for a network services license, the company said in a statement. [Photo / China Daily]
The company's new market buoyancy will be bolstered by a recent trial operated by the Ministry of Industry and Information Technology that allows private Chinese companies to offer mobile communications services directly to end users.
By purchasing bandwidth from telecommunications carriers, new entrants will stay focused on providing unique services that will differentiate them from the big three existing operators, China Mobile Ltd, China Unicom (Hong Kong) Ltd and China Telecom Corp Ltd.
The draft of the directive proposes a two-year trial whereby telecom operators will be required to sign up at least two service resellers.
The ministry said the measure is the latest move in China's bid to promote and introduce private capital in the telecom industry, which aims to boost competition and quality of service. It is collecting public feedback on the proposal until Feb 6.
China Mobile, the largest mobile carrier by user numbers, "has always, and will continue to support telecom reform led by the MIIT. The company will carry out relevant works by keeping close pace with the ministry", said company spokesman Ren Liangchuan.
China Unicom and China Telecom have not yet responded to request for interviews.
The plan marks the end of an industry monopoly held by the State-owned telecom trio, said Xiang Ligang, a veteran industry commentator and founder of CCTime, a telecom information portal.
"I think the new policy sends a positive signal that also effectively lowers the threshold for private capital to thrive in the market, without redundant input in infrastructure, providing opportunities to even smaller-cap firms," said Chen Tao, a partner at Roland Berger Strategy Consultants in Beijing.
A mobile virtual network operator, or MVNO, is a provider of services and a reseller of network services from other telecom suppliers that do not own spectrum, Chen said.
A MVNO usually leases bandwidth at wholesale rates from telecom providers to provide customers with tailor-made solutions.
"The MVNO re-brands the service to resell to end users. While the MNVO does not build its own infrastructure, it must set up a customer-support system and other business operations-related systems," he explained.
Suning doubled its sales in 2012
Suning to apply for virtual network operator license
Suning has big plans for high-end chain store
Suning acquires Redbaby to broaden product lines