China's trade surplus of $231.1 billion in 2012, which saw a year-on-year jump of 48.1 percent despite the increase in imports, was due to commodity price declines.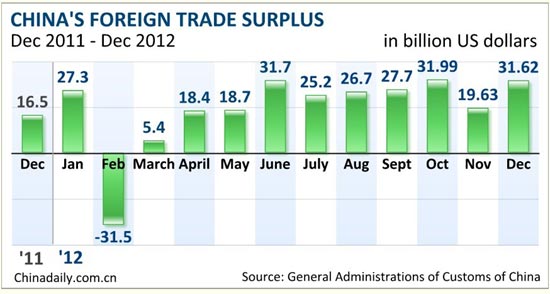 Shen Danyang, spokesman of the Ministry of Commerce, made the remarks at a news briefing on Wednesday.
The trade surplus accounted for about 2.8 percent of China's GDP in 2012, which falls within international standards, Shen added.
The ministry will take measures to balance foreign trade in 2013, including issuing specific fiscal and financial measures to widen imports and organizing import exhibitions, Shen said.
China was the world's second-largest importer in 2012, and imports registered $1.82 trillion. China's goods imports accounted for 7.9 percent of the world's total in 2009 and 9.55 percent in 2011, and the share will further increase in 2012, Shen said.
Related Readings
China's foreign trade grew 6.2% in 2012
Trade growth falls short of 10% target
China's trade surplus with US up 8.2% in 2012

China to see narrowing trade surplus