Chinese companies have been suffering from a growing number of anti-dumping investigations amid mounting trade protectionism around the world, reports Li Jiabao.
For Chinese companies such as Suntech Power Holdings Co Ltd, strongly reliant on exports, this winter is proving to be long and hard.
The Jiangsu-based company, the world's biggest solar panel maker, has been fighting its corner, alongside other Chinese panel producers, ever since the United States launched anti-dumping and countervailing investigations into China-made solar cells and modules in late 2011 and imposed anti-dumping tariffs of up to 249.96 percent and countervailing duties of up to 15.97 percent in a final ruling of the US International Trade Commission in November.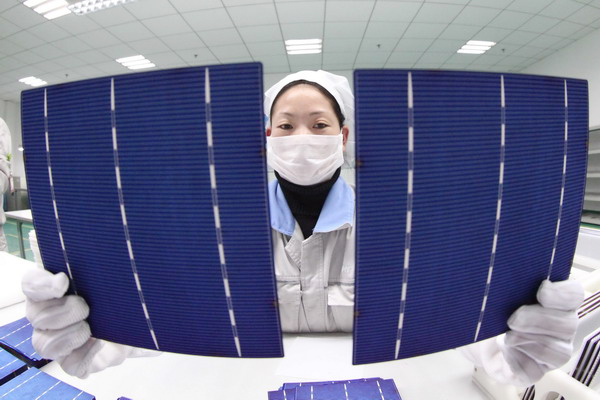 A worker checks solar panels for export to Europe at a factory in Ganyu, Jiangsu province. Last year, the United States and the European Union began to impose punitive anti-dumping tariffs on Chinese solar panels. [Photo / For China Daily] 
The European Union followed suit in launching an anti-dumping probe into Chinese solar panels in September, and stepped up the trade battle by opening an anti-subsidy investigation on Nov 8. India added one more blow and started an anti-dumping investigation into solar cells from China on Nov 23.
China's solar export value will be around 13 billion yuan ($2.08 billion) in 2012, down 40 percent from a year earlier. More than half of Chinese small and medium-sized solar manufacturers have suspended production after the US and EU - China's biggest solar export markets - launched investigations, according to Wang Bohua, secretary-general of China Photovoltaic Industry Alliance.
Zhou Hua, deputy director of the division of industry competitiveness analysis of the investigation bureau of industry injury at the Ministry of Commerce, added: "In 2012, the number of trade remedy investigations against China will be slightly more than that in 2011, while the involved export value will be significantly higher than the previous year because of some major cases such as the solar panel one."
Despite the government's recent moves to ease troubled exporters, including a second round of the Golden Sun program to finance more than 100 solar developers, the winter of trade remedy investigations targeting Chinese exporters has come.
"China will have more trade frictions in 2013 and I hope domestic enterprises are well prepared," said Wei Jianguo, vice-chairman and secretary-general of China Center for International Economic Exchanges.
Anti-dumping probes against China products
US launches anti-dumping probe on China's silica bricks
US keeps anti-dumping duty on China gift boxes
US to keep playing trade war with China
US extends honey anti-dumping duty
US starts probe on China hardwood, plywood imports
Chinese companies fight back
Aokang not subject to 16.5% tariff by EU
Aokang anti-dumping win 'positive precedent'
China takes EU solar dispute to WTO
Bicycle firms call for fairness from EU
Chinese solar panel makers condemn US ruling
Opinions
Punitive tariffs won't solve trade disputes
US solar ruling 'impedes new energy development'
EU probe ignores China's goodwill