East African country welcomes Chinese manufacturers to take on a larger presence
As China's labor, manufacturing and resources costs continue to rise, Ethiopia, one of the least-developed countries in the world is hoping Chinese companies will consider opening more factories there.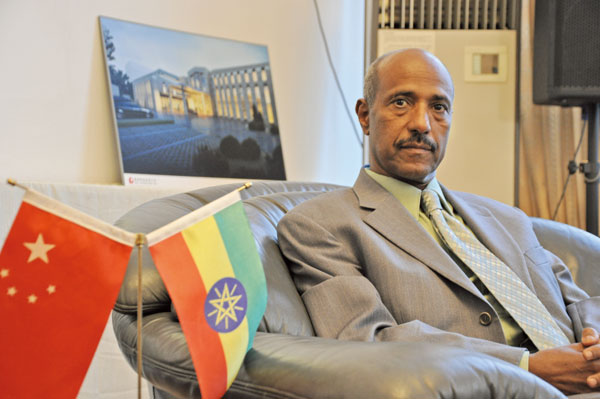 Seyoum Mesfin, Ethiopian ambassador to China, says his country prefers the non-intervention policy that Chinese investors follow when doing business there. Zhao Yanrong / China Daily 
"China is one of our country's main donors in building infrastructure, a big constructor and a major technology provider," said Seyoum Mesfin, Ethiopian ambassador to China. "But China will also be a major factory owner in Ethiopia and a big market for products made in Ethiopia in the future.
"Chinese companies are assembling goods in Ethiopia to ship back to China, which is more profitable than producing in China today."
Mesfin said a good labor supply, low energy costs and high-quality materials support development in his country.
It was with plentiful labor, low-cost manufacturing and an export-driven economy that China accomplished its rapid development over the past three decades, and that is the model Ethiopia wants to borrow from.
To follow in the footsteps of Chinese constructors and engineers of its infrastructure, the Ethiopian government has been inviting more manufacturers in recent years, making two industrial zones available for entrepreneurs to set up business.
Huajian, a shoe maker, is one of the best known Chinese manufacturers in Ethiopia.
The company is an original equipment manufacturer from Dongguan in Guangdong province for leading global brands such as Calvin Klein, Coach and Louis Vuitton. After a meeting Ethiopian senior government officials last year, Huajian opened its factory near the country's capital, Addis Ababa, using an investment of $2 billion, which will create more than 100,000 jobs for local communities over the next decade.
"Ethiopia is an important manufacture base for us since we are going to be the OEM for world brands," Zhang Huarong, chairman of Huajian International Group, said during the World Footwear Development Forum in Dongguan last November.
Zhang said a manufacturer should not only be able to build its own reputation, but also should be able to help others by providing insight on global strategy.
"Within China, there are few opportunities to extend our manufacturing capability quickly," he said. "The best we can do is to maintain the status quo. But in Ethiopia, which is like China 30 years ago, we find many possibilities to make our business even bigger, with sufficient supplies of raw materials and labor. It's a beneficial business for the company and local people."
By the end of April, the company had opened three assembly lines in Ethiopia and hired 630 local workers in addition to 160 Chinese employees. A big contributor to Ethiopia's international trade, Huajian produces more than 2,000 pairs of shoes a day, all exported to Europe and the United States.
Three more Chinese companies started operating in Ethiopia in September and October.
"It's exciting to see more Chinese companies moving to Ethiopia," the ambassador said. "They bring excellent experience to our garment and textile industry."
Special Coverage
Related Stories
China reaches out to Ethiopia

Chinese firms welcomed: Ethiopian official
Growth path in Africa

China's trade with Africa rises

Chinese firms urged to fulfill responsibility in Africa